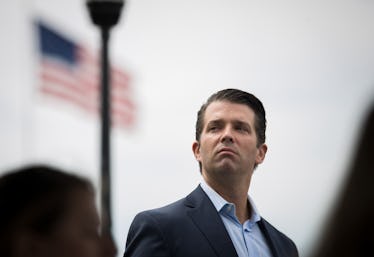 Donald Trump Jr. Wished His Dad Happy Birthday With A Seriously Frantic Message
Drew Angerer/Getty Images News/Getty Images
President Donald Trump has been getting all kinds of weird birthday messages from the universe. Trump turns 72 on Thursday, June 14, and he's already been handed a stiff lawsuit from the New York State Attorney General regarding one of his prominent charities. Earlier in the morning, in an appearance on Fox & Friends, he got another stiff message from his son. Donald Trump Jr.'s birthday message for his father was so frantic, and if you think about it for too long it gets real sad.
Donald Jr. said that he doesn't get to see his father as often anymore — given that he's the president — and it kind of changed the tone of the moment. For a second, you think to yourself, wait is Donald Jr. only appearing on network television to communicate with his father? See, you can't think about it for too long or else it get sad.
Donald Jr. looked straight at the camera and said,
Happy birthday, dad. I love you very much. You're getting absolutely no presents because I figured five grandchildren is enough. What do you get the most powerful guy in the world? Anything is going to be a let down. We love you, and I look forward to seeing you soon. I don't get to see him much anymore, that's the only problem.
Alright, first question: Who is "we?" Did he mean, like, "we" the broader family of Trump spawn love you? Or was he speaking for the panel of Fox & Friends hosts? I feel like it could go either way. (Fox & Friends, if you're not familiar, is a three-hour morning show on Fox that is one of the president's favorites programs. The show often peddles conspiracy theories, misinformation, and perhaps most tellingly, shells out hefty praise of Donald Trump.)
So, yeah, it was very much a *family* affair Thursday morning. Just your typical first family exchanging pleasantries via state-sponsored TV, while thousands of migrant children have been separated from their families and are living in prison-like conditions.
Donald Jr. took the occasion to tread into some more serious topics — such as the weak Republicans in the House and Senate who, as he said, don't stand by their convictions. He reacted to Sen. Bob Corker's comments that the Republican party has become "cult-like," and he didn't actually seem at all averse to that description? Donald Jr. said,
If it's a cult it's because they like what my father's doing. You see real Americans actually winning for a change. Conservatives actually getting things done ... Americans want to see someone who's actually going to have conviction, not just talk about it with great sound bytes and then when it comes game time they sit there and fold.
Donald Jr. wasn't the only Trump to send the president birthday wishes over the internet. Ivanka, the first daughter, posted a bunch of old photos to her Instagram with the caption, "Happy birthday Dad! I love you very much. Wishing you your best year yet!!!" The grainy, old photos have me nostalgic for IRL Instagram in the '90s.
Eric Trump also posted a bunch of photos of him and his dad. It's definitely not as iconic as Donald Jr.'s Fox & Friends message (cue "Hello Darkness My Old Friend" by Simon and Garfunkel), but it'll do. It'll do. Also, did not realize the Trumps were Yankee fans. Is that still a thing? Do people know that about them? Trump was once a registered Democrat, too, though, so it would not shock me if he's since switched teams.
Regardless of how you choose celebrate June 14, the birthday of President Donald Trump, in the spirit of upcoming Father's Day, it's worth taking a moment to acknowledge that thousands of migrant children are being separated from their fathers. Thousands of people seeking asylum — a legal path to U.S. citizenship — and fleeing poverty and violence are being turned away at the border. Thousands of children are unaccompanied and in prison-like conditions. Thousands more will be turned away in the coming weeks. Happy birthday President Trump. Everything is terrible. Eat Arby's.