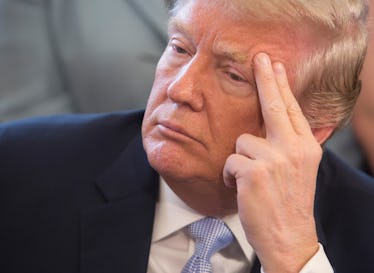 Donald Trump Is Reportedly Rehearsing His Russia Interview, & It's Not Going Great
Pool/Getty Images News/Getty Images
I love to talk. In fact, when I went to school for the first time, my grandparents were terrified I wouldn't make friends because I talked too much, but, apparently, I've got nothing on the president. Donald Trump reportedly rehearsed for an interview about Russia, and he supposedly had a lot to say — just not about the questions.
Instead, the president reportedly took four hours to answer two questions in a mock interview Trump had with his lawyers, according to the Wall Street Journal. The interview was reportedly often met with typical interruptions, like national security matters, and less typical interruptions, like the president. Here's what the Wall Street Journal reported:
In an informal, four-hour practice session, Mr. Trump's lawyers were only able to walk him through two questions, given the frequent interruptions on national-security matters along with Mr. Trump's loquaciousness, one person familiar with the matter said.
For anyone who, like me, doesn't typically throw the word "loquacious" around, it's a nice, elegant way of saying the president talks often and freely. That means the president reportedly took four hours to answer two questions partly because he was talking too much, which isn't setting anyone's mind at ease for an interview that isn't just practice.
There's been plenty of speculation about whether the president would sit down for an interview with Special Counsel Robert Mueller at all, and a New York Times report in early February reported that his lawyers were advising him against it. In January, Trump's legal team was reportedly looking into a 20-year-old court order that might help him avoid an interview with Mueller, according to the Wall Street Journal. That court order would only be applicable if answering questions would reveal secret information about official government action and decision-making, but Mueller could override that if he proved he couldn't get the evidence he needs from anyone else but Trump, according to The Hill.
But that's not the only way the president has reportedly been looking at to avoid answering questions. Rudy Giuliani, who joined Trump's legal team in April, suggested on Sunday that the team was open to the president pleading the Fifth Amendment, which guarantees the rights of citizens to not incriminate themselves. If Trump did that, it would be a historic move, according to TIME.
If Trump's team decided he would not voluntarily sit down for an interview, Mueller could try to force his hand by subpoenaing him. That would start quite the legal battle if Trump resisted it and could take many months, according to Talking Points Memo.
But recent developments have made the question of whether Trump will do an interview even more fraught. On April 30, nearly four dozen reported questions that Mueller supposedly wants to ask Trump were leaked to the public. The questions were obtained and released by The New York Times, and they touch on a variety of issues. They are so broad, in fact, that a former aide to the Trump administration said the White House should avoid an interview "like the plague," according to The Hill.
But all of the drama is only if Trump doesn't sit down for the interview. If he does, we might see loquacious Trump — but we also might not. In the past, Trump has been uncharacteristically restrained in his comments during legal proceedings. According to The Atlantic, Trump under oath could be a very different person:
He is calmer, more restrained, and more deliberate than his public persona, and with the tether of his oath holding him back, often acknowledges when he is wrong or has misrepresented things in the past.
In the meantime, Trump has been shaking up his personal legal team. In April, the president announced that Giuliani, former mayor of New York and Trump's friend, would be joining the team, and, even more interestingly, on May 2 he announced the addition of Emmet Flood as well. Considering Flood represented President Bill Clinton during his impeachment proceedings, it could be a sign Trump is preparing for a fight, according to The New York Times.
We'll all have to wait and see how this fight plays out, but one thing is for sure: if Trump does sit down, that's going to be one long interview.