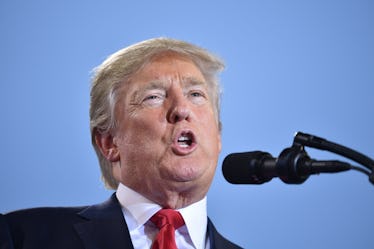 Steve Bannon Reportedly Had to Teach Donald Trump About The 25th Amendment
MANDEL NGAN/AFP/Getty Images
There's a lot of drama supposedly going down in the White House right now. According to a report from Vanity Fair, tensions are high, Donald Trump is reportedly having insane mood swings, and many members of the administration are miserable. Perhaps the biggest bombshell from all this? Donald Trump didn't know about the 25th Amendment... which is just, yikes.
Two sources told Vanity Fair that former chief strategist Steve Bannon explained to Trump that he shouldn't be nervous about impeachment, but rather the 25th Amendment.
To which Trump responded: "What's that?"
A refresher: the 25th Amendment states that a majority of the Cabinet can take action to remove the president from office if they determine that he is "unable to discharge the powers and duties of his office," presumably due to incapacitation by a mental or physical illness. To be fair, probably very few of us actually know that information off the top of our heads. To also be fair, very few of us have decided to take on the awesome responsibility of running a country.
West Wing advisers are reportedly nervous that Trump's actions could actually get him kicked out of office. A source told Vanity Fair that Bannon believes Trump has only a 30 percent chance of finishing his full term.
This little tidbit has sent the Twitterverse into a tizzy, with some people expressing hope that the 25th Amendment will be put into action sometime very, very soon.
This isn't the first time that the internet has called for Trump's removal — and he hated it then, too.
Back in July, after Trump tweeted out a video of himself physically attacking a CNN icon button, the Twitter hashtag #25thAmendmentNow quickly started to trend.
This, according to Jon Cooper, Chairman of The Democratic Coalition, did not sit well with Trump.
So he's probably even more unhappy, now that he knows what it is.
Other takeaways on the bizarre climate at the White House right now?
Several sources close to the president say that he is "unstable," "losing a step," and "unraveling." Advisers are reportedly having a hard time keeping Trump stable, particularly because he's prone to bad moods and is having a difficult time remaining focused.
He also apparently told security chief Keith Schiller: "I hate everyone in the White House! There are a few exceptions, but I hate them!"
There are also reports that staffers are attempting to limit Trump's contact with the outside world. Essentially, they don't really seem to trust him, and think he'll go rogue. A GOP donor alleged that he no longer has access to Trump, and that when he calls the White House, he can't reach the Oval Office. There have also been plans to limit the president's schmoozing at Mar-a-Lago.
Another adviser reportedly added that Trump has "lost a step... they don't want him doing adversarial TV interviews."
This is all in line with Senator Bob Corker's statement to The New York Times that Trump treats his presidency like "a reality show." He explained,
I know for a fact that every single day at the White House, it's a situation of trying to contain him.
Look, except for a few people, the vast majority of our caucus understands what we're dealing with here… and the tremendous amount of work that it takes by people around him to keep him in the middle of the road.
According to the White House, these reports are not accurate. An official claimed,
The President's mood is good and his outlook on the agenda is very positive.
One close friend has gone on the record about Trump's shortcomings, though. In an interview with The Washington Post on Oct. 11, Thomas J. Barrack Jr., a billionaire real estate investor, said that he is "shocked" and "stunned" by the president's social media presence and legislative decisions. He explained,
He thinks he has to be loyal to his base. I keep on saying, "But who is your base? You don't have a natural base. Your base now is the world and America, so you have all these constituencies; show them who you really are." In my opinion, he's better than this. I tell him all the time: I don't like the rhetoric.
Barrack added that Trump's "reputation is selfish and egotistical" and that he's able to remain friends with him because "I've never needed anything from him ... I was always subservient to him."
I guess one thing is certain. You could not pay me to be a staffer at The White House right now. Babysitting was really never my thing.