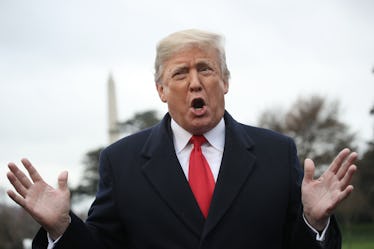 Donald Trump Defended Using Tear Gas At The Border Twice In One Day
Win McNamee/Getty Images News/Getty Images
While traveling to Mississippi to rally for Republican Cindy Hyde-Smith in a tight Senate race, President Donald Trump on Monday got pegged with repeated questions about how law enforcement has been handling migrants near the southern U.S. border. Answering reporters' questions on Nov. 26, Trump defended tear gassing migrants at the border, when a group of migrants had reportedly rushed the border on Nov. 25. The decision to unleash tear gas upon the migrants, among them women and children, was met with fierce backlash.
"They were being rushed by some very tough people and they used tear gas," Trump said Monday per CBS News. "Here's the bottom line: Nobody is coming into our country unless they come in legally." The White House did not immediately respond to Elite Daily's request for additional comment on Trump's statement. Customs and Border Patrol (CBP) officials had responded to a group of migrants that they said had attempted to cross the border illegally and attacking agents.
"Over 1,000 individuals who were part of the so-called caravan attempted to cross illegally into the U.S.," and allegedly assaulted U.S. officials, said the CBP in a statement provided to Elite Daily by email Tuesday. "As a response to the assaults and to defuse this dangerous situation, trained CBP personnel employed less-lethal devices to stop the actions."
But regardless, the optics didn't go over well. Thanks to photos and videos that have gone viral showing the plight of families on the caravan's journey, much attention has been drawn to the fact that women and children represent a significant chunk of those fleeing their countries for safety. Part of the reason so many vulnerable people are traveling in a pack, in fact, is because there is said to be safety in numbers for a large group like this, which would otherwise be vulnerable to violence or exploitation. Most of the refugees are fleeing violence and hardship in Honduras, Guatemala, and El Salvador.
Later Monday, Trump was asked about tear gassing migrants again, and for the second time in a few hours, defended the CBP's decision.
In a video posted by ABC News, the network's Karen Travers asked the president specifically about the vulnerable populations who were affected by the gassing. "How did you feel when you saw the images of women and children running from the tear gas yesterday?" she asked Trump.
"Well I do say, why are they there?" Trump said, and claimed that the the tear gas used on Sunday was "a very minor form of the tear gas itself."
He continued, "Why is a parent running up into an area where they know the tear gas is forming and it's going to be formed? And in some cases, you know, they're not the parents," he added, suggesting that some of the people pictured with children might have been staged, calling them "grabbers." The White House did not respond to Elite Daily's request for additional comment on his remarks.
Trump on Monday also referred to the migrant caravan as "stone cold criminals," despite the photos and videos circulating of children and families.
On Tuesday, an article in The Washington Times noted that the Obama administration also used tear gas along the border. However, data on use of force between 2012 and 2018 provided to Elite Daily by CBP shows that while the use of tear gas under Obama did hit a high in 2013, the use of tear gas in 2018 under Trump has since exceeded that number.
It's worth noting, too, that in 2017, despite having a 17-year low in apprehensions at the border, the CBP reported 996 total incidents of use of "less-lethal" force (such as tear gassing) — more than in 2012, a year that saw more apprehensions.
"If you changed the laws, you wouldn't be having this problem," Trump added in his comments to Travers Monday. "I think the funding of the wall has never looked better." But as Congress gets ready to hand the reins of power to Democrats in the House with the new year, the prospect of a wall is looking anything but certain.