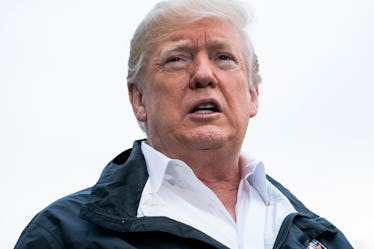 Donald Trump Called The Camp Fire A "Really, Really Bad One" During His California Visit
Pool/Getty Images News/Getty Images
Since early November, large wildfires have been raging throughout parts of California, resulting in more than 70 deaths and forcing hundreds of thousands of people to evacuate their homes. As firefighters and rescue workers continue to fight against the flames, President Donald Trump made his arrival to California on Nov. 17 to survey the damage. While his initial reaction to the fires was a callous response, the president had more of a solemn (and confusing) reaction this time. Donald Trump called for "raking forest floors" during his California wildfire zone visit, which, um, what?
According to USA Today, on Saturday, Nov. 17, Trump visited a scorched retirement community that was hit by the Camp Fire, which reportedly destroyed more than 9,000 homes and forced 52,000 people from their homes. After seeing the rubble and destruction left by the fires, which Trump referred to as "really, really bad [ones]," he reportedly became remorseful. "Right now we want to take care of the people who have been so badly hurt," Trump said. He added, "This is very sad to see. As far as the lives are concerned, nobody knows quite yet."
Trump, who was accompanied by Gov. Jerry Brown and Gov.-elect Gavin Newsom, declared that the state would "get this cleaned up" and "take care of the floors of the forest." In a CNN video shared on Twitter by @TheContemptor, Trump said, "You gotta take care of the floors. You know the floors of the forest, very important." Referencing a conversation with Finnish President Sauli Niinistö, Trump said, "He called [Finland] a forest nation and they spent a lot of time on raking and cleaning and doing things and they don't have any problem."
Raking the floors of the forest? Come again? Elite Daily reached out to the White House for further clarification on the comment, but did not hear back by the time of publication.
According to Merriam-Webster Dictionary, the forest floor is "the richly organic layer of soil and debris characteristic of forested land." So, President Trump was likely once again claiming that what he perceives as mismanaged forest services were to blame for the devastating fires.
Aside from that, there was a moment when he also flashed back to his previous comments that forest mismanagement was to blame for the blazes. Under questions from reporters, Trump suggested that not raking leaves contributed to the fires. It's a comment that aligns with multiple ones he's made times over the past week, as recently as Nov. 16.
Per Newsweek, in an interview with Fox News set to air on Sunday, Nov. 18, Trump said on Friday, Nov. 16 that he'd seen firemen working and raking leaves near the fires. If that had been done earlier, he said, there wouldn't have been fires. When he was questioned on whether he believed climate change contributed to the blazes, he said, "Maybe it contributes a little bit. The big problem we have is management."
"You need forest management, it has to be, I'm not saying that in a negative way.... I'm just saying the facts, and I've really learned a lot," Trump said.
Days before that, on Nov. 10, Trump had also blamed the wildfires on "gross mismanagement" of the state's forests, threatening to withdraw federal funding from the state if something doesn't change in the aftermath of the blazes. "There is no reason for these massive, deadly and costly forest fires in California except that forest management is so poor," Trump tweeted. "Billions of dollars are given each year, with so many lives lost, all because of gross mismanagement of the forests. Remedy now, or no more Fed payments!" Elite Daily reached out to the White House for further comment on Trump's tweet, but did not hear back by the time of publication.
Of course, his assertions have been denounced, with many people pointing out California's vulnerability to fire due to its dry weather conditions. Experts, on the other hand, have repeatedly pointed out that the intensity of the fires has likely been triggered by climate change. Per NPR, scientists say that factors like decreased snowpacks in California's mountains have led to drier vegetation, due to less fog rolling in.
Although Trump likely won't budge on his belief that the cause of the fires aren't largely related to climate change, at least he's seemingly being sympathetic and is offering a hand to those in need. So that's something.