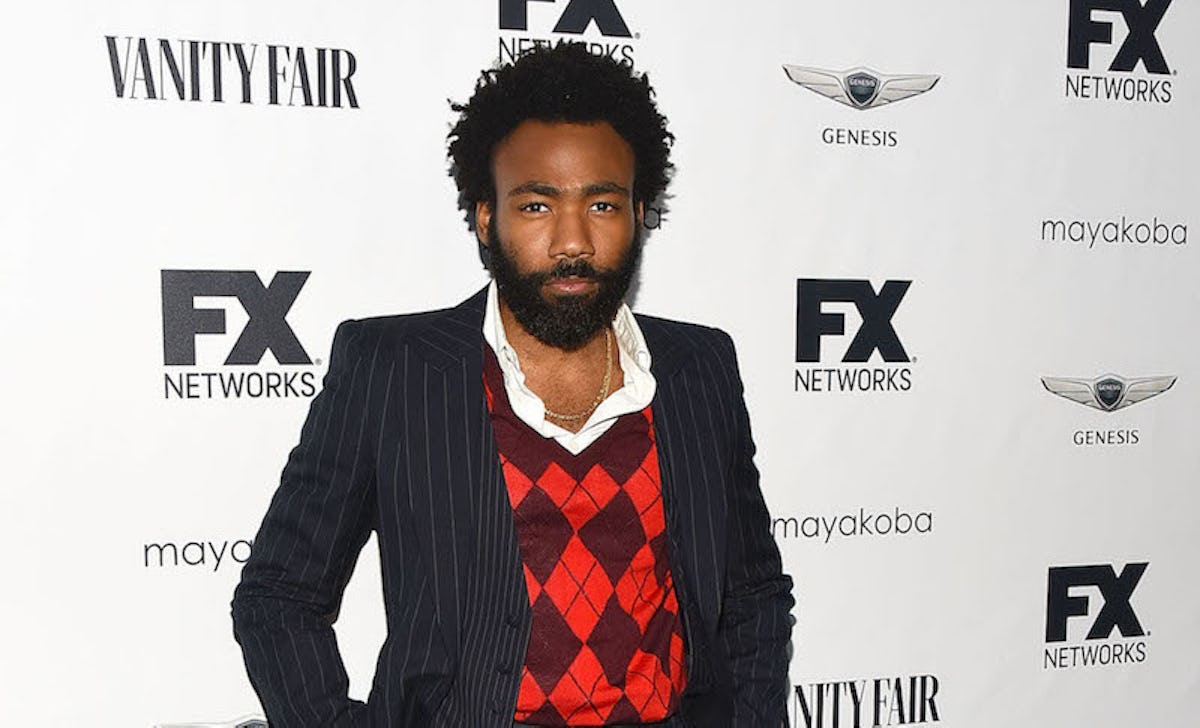 Donald Glover Wore Whiteface At The Emmy Awards, But Only 'Atlanta' Fans Understood Why – UPDATE
Araya Diaz/Getty Images
The Emmy Awards started off pretty tame on Monday night, but once viewers got a look at what Donald Glover wore to the big ceremony, all of Twitter exploded. When he was announced as a nominee in the Outstanding Lead Actor in a Comedy Series category, the camera panned to Glover and showed him looking... incredibly different from usual. Donald Glover dressed as Teddy Perkins at the 2018 Emmy Awards, and only Atlanta fans really understood his whiteface look.
UPDATE: It was SNL alum Jay Pharoah in the Teddy Perkins costume at the 2018 Emmy Awards, not Donald Glover.
EARLIER: When the Emmys camera first showed Glover in the audience, most viewers probably didn't even recognize him. That's because Glover came to the ceremony completely decked out in prosthetics and whiteface that made him look nothing like Childish Gambino. So, umm, why did he pull this extreme look? Well, as fans of his series Atlanta know, Glover was actually dressed up as his character Teddy Perkins.
Glover was nominated for the bizarre and unsettling standout episode of Atlanta's second season, called "Teddy Perkins." In the episode, Glover completely transformed himself into a strange, murderous hermit named Teddy Perkins, meant to be something of a sadistic take on a late-in-life Michael Jackson. So, since Glover was nominated for playing Teddy Perkins, then I guess it made some sort of sense that he showed up at the Emmy Awards in character. Still, his transforming look was a total shock to people on Twitter.
Unfortunately, although Donald Glover clearly put a lot of work into getting into character for the Emmy Awards this year, he wound up losing out on the Lead Actor in a Comedy Series award. The trophy went to Bill Hader instead, who made a huge splash as the lead of his own HBO comedy series, Barry. Hader's win was actually the second win of the night for Barry, following the Outstanding Supporting Actor in a Comedy Series win for his costar Henry Winkler.
Still, although he did not leave with the Best Actor award, Glover definitely still stole the show with his Teddy Perkins get-up. He looked exactly as strange and unsettling as he did on Atlanta.
The fact that Donald Glover came as Teddy Perkins probably isn't too much of a shock for fans who know the behind-the-scenes stories about Glover when he was shooting the pisode. Glover's Atlanta costar Derrick Haywood revealed to Vulture that Glover remained in full character as Teddy Perkins even when the cameras stopped rolling:
They were calling him Teddy, he acted as Teddy. There was no Donald on set whatsoever. I kid you not ... He was really Teddy Perkins on set ... It was night and day. It was exactly what you'd expect it to be if you saw a young African-American man and an older white male on set. The first time I filmed on Atlanta, [Donald] was in the room chatting with us. Just normal conversations between normal people. But this time, he was consistently walking around as 'Teddy,' not Donald. He had security and everything! I remember when I Googled 'Teddy Perkins,' a wrestler came up, but I didn't think it was this guy.
I wonder if Donald Glover was insisting that the other celebrities at the Emmy Awards should call him Teddy as well. Sadly, we did not get to see Teddy Perkins take to the stage to deliver what would have definitely been a standout acceptance speech, but we can just imagine how shocking that would have been.