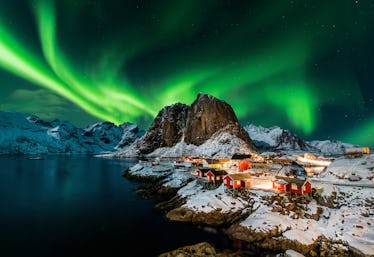 You Can Save $460 On Round-Trip Flights To Norway To See The Northern Lights
Shutterstock
With spring still a few months away, there's never been a better time to embrace the winter vibes and maybe check off a few items off your travel bucket list while you're at it. If seeing the Northern Lights is one of those items, you're definitely going to want to check out Dollar Flight Club's Feb. 10 deals to Norway. With round-trip flights to Oslo starting under $300, it's the perfect excuse to plan an unforgettable trip up north.
If you've never used Dollar Flight Club before and you love to save money on airfare, you'll definitely want to add it to your travel planning arsenal ASAP. Instead of wasting valuable time searching for deals on flights or just paying full price, the tool does all that hard work for you by combing through various websites for the best prices and sending them to your inbox.
If seeing the Northern Lights is on your bucket list, Dollar Flight Club's deal for Monday, Feb. 10 will help you cross that off in the most cost-effective way possible. While standard fares to Norway usually clock in at about $750, travelers can enjoy round-trip tickets as low as $290 through airlines such as Norwegian Air, Swiss Airlines, and Lufthansa. You could literally be saving over $450 on the cost of travel, meaning you have hundreds of dollars to put towards the rest of your trip or save for a rainy day.
According to Dollar Flight Club, the best prices seem to be from March to April, and from September to December this year, so it's your choice whether you'd prefer a spring or winter getaway. Again, this varies depending on your destination city, so play around with the different options to score your best choice. Keep in mind that while all these prices are accurate at the time of publication, they're likely to go up within the next 24 hours.
The cheapest fare is a round-trip ticket from New York's JFK to Oslo, which will set you back only $290 from March 18 through March 23. Flying out from Newark to Norway's capital is also a steal, clocking in at $293 from March 10 through March 17. Meanwhile, if you're located in Florida, you can head to Oslo from Miami from March 10 through March 17 for just $313.
These fares won't last long, so I'd talk things over with your travel companion and make some moves.