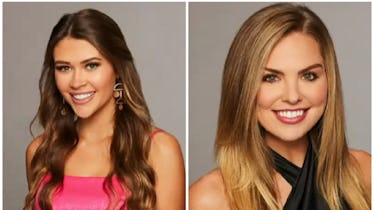 A Body Language Expert Reveals Whether She Thinks Colton Will Choose Caelynn Or Hannah B.
ABC
For those of you who haven't been keeping up with this season of The Bachelor, there is some major drama going on with two of the contestants who knew each other from before the show. Now, at this point, both women have shared their concerns with each other with their shared bae. But does The Bachelor's Colton like Hannah B. or Caelynn more?
In case you missed it, Hannah B. and Caelynn competed on the pageant circuit together (as Miss Alabama and Miss North Carolina, respectively). While competing in the Miss USA pageant in May 2018, they were even roommates. They seemed pretty tight, to the extent that they even appeared on each other's Instagrams a few times. But at some point prior to the filming of The Bachelor, they had a falling-out. Both expressed concerns about each other's character to Colton, before ultimately having an honest conversation with each other in which they chose to move past their former feud.
Colton initially seemed overwhelmed by the drama, partly because he genuinely seems to like both women. (He gave Hannah B. a one-on-one date before the feud burst in the house, and Caelynn one after.) While he ultimately chose to focus on his individual connections with each contestant, instead of the potential issues between them, it's tempting to seek out clues about which relationship he's feeling more.
Traci Brown, body language expert and author of Persuasion Point, examined two videos to determine what's really going on between Colton, Caelynn, and Hannah B.