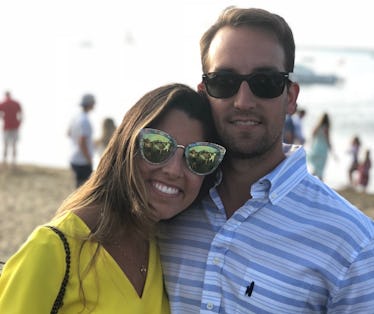 A Body Language Expert Analyzed Two Years Of My Relationship Photos So Accurately
Brian and I met on July 2, 2016, at a bar in the Hamptons. He had a house there with his friends all summer; I was there with my friends for my birthday weekend. Most of the details are foggy but here's the TL;DR: He introduced himself, I made an inappropriate joke that I'll leave out in case my mom reads this, he decided to borrow my friend's ring to stage a fake "proposal" to me in the middle of the bar. Now, I've had a body language expert analyze photos of me and my boyfriend, from the day we met at that bar in the Hamptons to the time he helped me reapply fake eyelashes at my friend's wedding last month.
You see, I would never remember the exact day we met if it weren't for the fact that he decided to propose to me in the middle of the bar. Because he decided to be so extra (let's call it what it is), he got the attention of all my friends and we wound up on everyone's Snapchat Stories. Most of those photos disappeared after 24 hours but one friend saved the picture. As a result, I've got one fateful photo from the day we met, back when I just thought he'd be some random guy I flirted with at a bar once. Since then, things have obviously changed.
But don't get me wrong. They didn't change overnight. First, there was the day we drunkenly met at the bar in the Hamptons. Then, he called and texted me every day the rest of our time out there until I agreed to go out with him in the city. I would wake up to voicemails from this virtual stranger saying, "Hey, babe? What's our plan for today?" I thought it was hilarious so I agreed to a date when we got back. The first date was a legendary one that sparked our "casually dating" phase that lasted a few months. Casually dating eventually turned into exclusively dating, which eventually turned into officially dating, and now, here we are, more than two years later in what most would call a Very Serious relationship.
I've got one fateful photo from the day we met, back when I just thought he'd be some random guy I flirted with.
The point is our relationship has had many twists and turns and all of those twists and turns, from the day we met, have been documented in pictures.
I know what was going through my head throughout these many phases, but I was curious to see how much of these thoughts and feelings were being conveyed through my body language. So I asked Traci Brown, body language expert and author of Persuasion Point to analyze images of my boyfriend and I over the years and, oh, man, she truly could not have been more on point.
Outside of the dates and the basic gist of where we were and what was going on, I tried to give Brown minimal background on what was happening within our relationship during each picture. So, read along and know she was able to do these super accurate readings without much backstory.