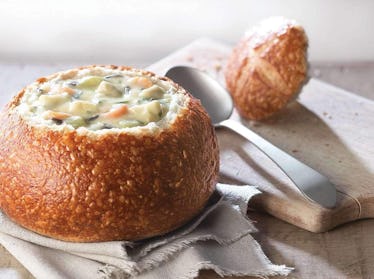 Here's What To Know About Getting Panera Delivered Right To Your Door
Food delivery is seriously the best idea when you're aiming for a cozy night in. It gives you the flexibility of so many different options for grub brought right to your doorstep. If you're a Panera fan and can't wait for the killer combo of delicious sandwiches and home delivery, you've probably been wondering: Does Panera deliver near me? There's good news if you're customers looking to get your Panera delivered right to your door.
Panera no longer offers its in-house delivery services, which launched in 2016, per an April 12, 2021 Restaurant Business report, but there are still plenty of options for finding a Panera location near you that delivers. In fact, Panera Bread offers a few ways to order delivery through its third-party food delivery service, which launched in 2019. All you'll need to do is hop on one of your favorite delivery apps, including DoorDash, Grubhub, and Uber Eats, to order Panera near you. With options like hot breakfast, new flatbread pizzas, and go-to orders like soups, salads and sandwiches, you can get Panera delivered pretty much any time of day (during operating hours, of course).
Even though the company nixed in-house delivery, you can still place delivery and pick-up orders on Panera's website and with the Panera app by first putting in your address. If you're located in a delivery location, you will be able to access a majority of the Panera locations near you that currently offer delivery through a third-party delivery service. To learn more about whether or not a Panera near you delivers, you can check out the Panera delivery website.
To get even more than a tasty AF bread bowl with your order, you'll be happy to know Panera's brand loyalty program, MyPanera, works when ordering Panera delivery through DoorDash, GrubHub, and UberEats. It's simple: By signing up for MyPanera, you'll be able to earn credits toward rewards when ordering Panera. Getting perks simply for going about your normal food ordering routine sounds like an awesome deal.
There are really so many options to choose from on the Panera menu, so it'll be quite a while before you get bored with ordering delivery from your nearest Panera location. The next time you're in a crunch to figure out what's for dinner, rest assured knowing that delivery from a Panera near you is only clicks away.
This article was originally published on