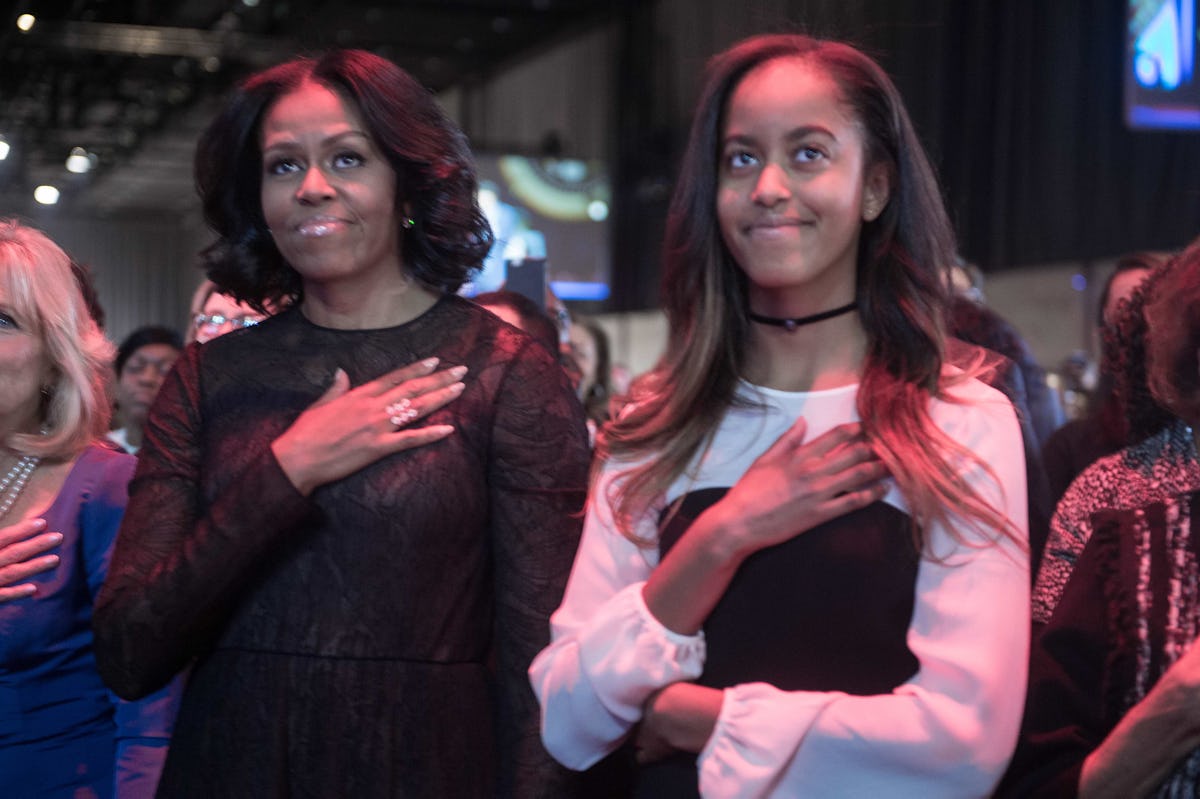 Here's Why People Are Curious About Malia Obama's College Secret Service Protection
NICHOLAS KAMM/AFP/Getty Images
When Malia Obama officially began her college career after moving in at Harvard University towards the end of the summer, the subject brought with it the usual type of questions you'd expect for any current or former first daughter. Among those questions is one that points to how unique of a life she might lead on campus: Does Malia Obama have security at Harvard? As far as an answer goes, a number of reports sure make it seem like she doesn't have just any security around, but instead the Secret Service.
Consider, for instance, what former President Barack Obama said about helping his daughter move in at his (and former first lady Michelle Obama's) alma mater. He said, per USA Today,
I dropped off Malia at college, and I was saying to Joe and Jill [Biden] that it was a little bit like open-heart surgery, and I was proud that I did not cry in front of her. But on the way back, the Secret Service was off, looking straight ahead, pretending they weren't hearing me as I sniffled and blew my nose. It was rough. And it's a reminder that at the end of our lives, whatever else we've accomplished, the thing that we'll remember are the joys that our children, and hopefully way later, our grandchildren bring.
That anecdote alone suggests that the Secret Service — the federal agency that protect presidents, vice presidents, and their families — was around when Malia Obama moved in at Harvard.
The question is whether any agents actually stayed around her during the semester. To be clear, there's reason to doubt that she enjoys the protection of the Secret Service while on campus.
The agency's official website itself says that it protects former presidents, their spouses, and children of former presidents up to age of 16. Those are pretty much the guidelines to who the Secret Service protects, according to a bill former President Obama signed himself in 2013, which granted lifetime Secret Service protection for all former presidents.
In other words, under those rules, 16-year-old Sasha Obama would likely still be under Secret Service protection, but her older sister might not be.
Still, some reports indicate that the Secret Service is indeed protecting Malia Obama. In a story written back in April about Malia Obama's imminent move to Harvard, for instance, Chicago Tribune Washington correspondent Katherine Skiba reported that a "Secret Service detail will ensure" she was not on her own on campus.
In any event, the idea of Secret Service agents having a presence on a college campus to protect a president's daughter isn't unfounded.
Back when Chelsea Clinton was a student at Stanford University, agents would dress casually and carry around book bags to blend on campus, according to the Washington Post. Jack Rakove, a professor at the university who advised Clinton in the past, indicated to the Post that people at Stanford didn't treat her presence as a big deal.
As for former President George W. Bush's twin daughters, reports indicated that they had much more notable stories about their time with Secret Service agents. Both daughters are reported to have enjoyed trying to lose their Secret Service details. Ronald Kessler, the author of a book detailing stories of Secret Service agents, was quoted by the Daily Mail as saying that Jenna Bush would try to ditch her agents by going through red lights and getting into her car without warning them.
While she was studying at the University of Texas, Jenna also once sent an agent to pick up a drunken male friend from a county jail, according to People. The same report also details how Jenna's sister, Barbara Bush, once lost her Secret Service detail by speeding through an EZ-Pass toll while agents stopped to pay.
If Malia Obama likes to toy around with a security detail like that, we'd be sure to find out, because it seems likely that she'll have that security around in the first place — and the public can't seem to leave her alone.