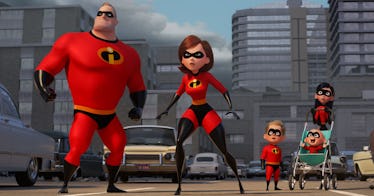 'Incredibles 2' Doesn't Have A Post-Credit Scene, But There's A Reason To Stick Around
Pixar
I'm used to getting comfy in my seat when the credits roll on a Marvel movie and eventually seeing an informative post-credit scene, but I definitely wouldn't expect it when watching a heartfelt Pixar movie. But given how long it's been since the first Incredibles film, the sequel Incredibles 2 could always throw us a surprise by embracing this recent movie trend. After all, it is a superhero movie. With the long-awaited movie now in theaters, does Incredibles 2 have a post-credit scene?
While Incredibles 2 picks up directly where the first film ended, you won't find any hints about a possible third film at the end of the movie. While it doesn't have a post-credit scene, there is still a reason for you to stick around once the superhero family's new adventure ends. According to Screen Rant, the credits include fun, upbeat songs that the characters dance to. Mr. Incredible, Elastigirl, and Frozone even dance along to their own theme songs during the credits. We may not have a teaser scene introducing a brand new superhero or just capturing the Parr family at dinner together, but characters dancing to songs is classic animated movie fare.
The original Incredibles film premiered in 2004, long before Marvel Studios transformed the art of the superhero movie for the greater good (see what I did there?). Can you even remember a time before Chris Evans carried the Captain America shield or Robert Downey Jr. was basically a real-life Tony Stark? Superheroes may be traditional summer content nowadays, but Incredibles 2 seems like it will add a fresh breath of air into the genre.
In Incredibles 2, the family takes on the villain the Underminer, who appeared at the very end of the original film. When their battle against him takes an unfortunate twist, the program protecting superheroes shuts down, and the family is still not allowed to live openly as these special beings. However, when two siblings approach the Parrs with the goal to legalize superheroes again, Helen receives an exciting opportunity to move their mission along. Bob then gets a chance to play Mr. Mom as Helen embraces the exciting life of a powerful superhero again.
The majority of the original cast returns for the sequel, as well as Brad Bird, the Incredibles director and voice of Edna Mode. Although it's taken 14 years for the release of a second film, Bird told Gizmodo that he always had a sequel idea in mind, saying:
I had the core idea about the role switch, that the mission would go to Helen, when we were promoting the first film. I also knew I had the unexploded bomb of Jack Jack to play with... but the part I needed, to feel like I could make it, was the more superhero villainy plot.
He was also skeptical about reintroducing Incredibles once the superhero boom began, saying:
It actually made me very unenthusiastic about this movie for a brief moment in time. [In 2016] I was going 'There are too many superhero movies right now.' In two years? People are going to be sick of them. Then we'll be coming out going, 'More superheroes, anyone?'
Clearly, Bird had nothing to worry about when it came to fans' reception of the movie. Incredibles 2 could earn as much as $140 million in North America this weekend, but that income is only bound to increase as the summer continues. The movie also raked in a record $18.5 million in preview screenings.
We may not have any hints about Incredibles returning for a third film, but it looks like Incredibles 2 is well worth the long wait.