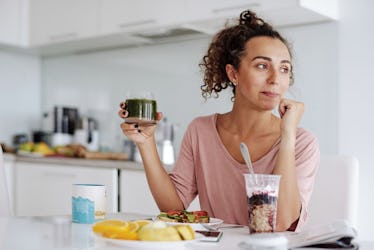 Science Says Cranberry Juice Won't Help Your UTI, But Here's What Will
Have you ever been on an hours-long road trip, stopped at a rest station for gas, but foolishly decided not to at least try to pee? Was your bladder, then, inevitably throbbing 20 minutes later, with no sign of release for miles? In case you've never experienced such an agonizing struggle, that's about a fraction of what a urinary tract infection feels, even if you use the bathroom. It used to be that drinking down a bottle of cranberry juice would do the trick, but now science is saying, "LOL JK, cranberry juice won't help your UTI, so good luck trying to find a home remedy that actually works." Sigh.
New guidelines issued by the UK's National Institute for Health and Care Excellence (NICE) will be in effect starting June 5, 2018, in order to help health care professionals treat UTIs more efficiently, and according to BBC, prescribing a tall glass of cranberry juice isn't going to cut it anymore. So even though drinking the bitter berry juice might have helped ease your UTI pain in the past, the NICE says there just isn't enough evidence to support the old wives' tale. Instead, the organization believes the infection should simply be treated with antibiotics.
Personally, I've used the cranberry juice method to nurse a nasty back-to-back UTI situation in the past and, in my opinion, it did help, at least a little bit. If you, like me, have had success with the drink, too, then you might be wondering why there really is little to no evidence backing up this holistic solution. According to Dr. Hedieh Asadi, co-founder of DeoDoc Intimate Skincare, it has a lot to do with your own individual body. "The hypothesis behind cranberry juice being used as a UTI-reliever lies in the fact that cranberries are very acidic and can help make urine more acidic," she tells Elite Daily. However, because "the ability to make urine more acidic is very individual to each person," she explains, "this method may not work for everyone."
In that case, you might not want to rule out cranberry juice as a home remedy entirely; if I were you, though, I wouldn't rely on the stuff to be the magical cure your mom always claimed it was. Luckily, sipping on cranberry juice is far from the end-all-be-all of holistic solutions to UTIs. Here are a few to remember the next time you're battling irritation.