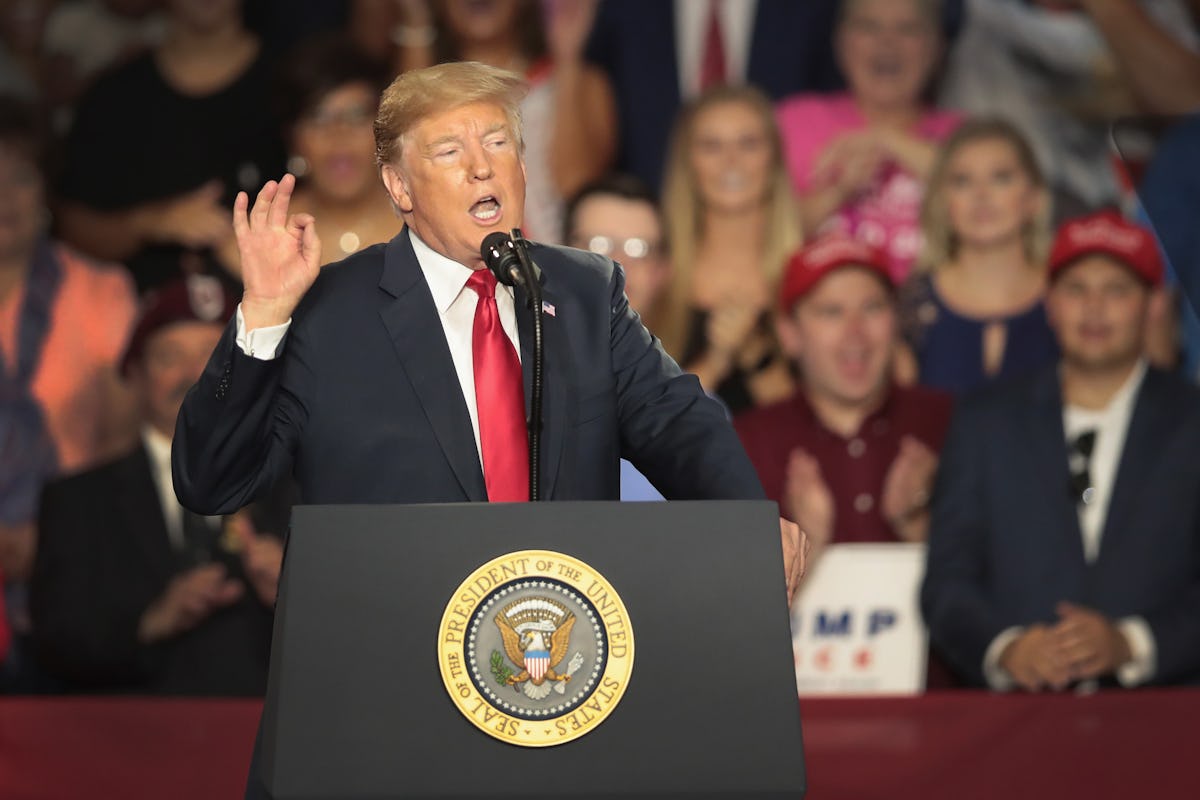 Experts Are Calling Out Donald Trump's Bizarre Claims About The California Wildfires
Scott Olson/Getty Images News/Getty Images
While massive wildfires are scorching across California, President Donald Trump is getting backlash for his comments about what's caused their destruction and severity. On Twitter, Trump is blaming the California wildfires on environmental regulations that have tied up the state's access to water sources that could be used in fighting fires. But experts on the fires and the conditions that have fanned them are saying that's not the case, and they're calling him out on it.
"California wildfires are being magnified & made so much worse by the bad environmental laws which aren't allowing massive amounts of readily available water to be properly utilized," Trump wrote in a tweet from Sunday, Aug. 5. "It is being diverted into the Pacific Ocean. Must also tree clear to stop fire from spreading!"
In a subsequent tweet on Monday, the president dug in on the state's governor, Jerry Brown, calling for him to free up "the vast amounts of water coming from the North and foolishly being diverted into the Pacific Ocean," for use in fighting the fires. But experts aren't buying it.
Scott McLean, a deputy chief with the California Department of Forestry and Fire Protection, said that Trump's tweet wasn't accurate. "We have plenty of water to fight these wildfires," he told TIME. "Our changing climate is leading to more severe and destructive fires that we are seeing this year and last."
McLean told the Los Angeles Times that the fires were "extremely dangerous" — and unprecedented. "Look how big it got, just in a matter of days," he said. "Look how fast this Mendocino Complex went up in ranking. That doesn't happen. That just doesn't happen."
University of California Merced climate scientist Leroy Westerling also called out the president's tweet. "He clearly doesn't know what he's talking about," he told TIME. "I don't see how that translates into more or less fire risk. It's not like we would've taken that water and sprayed it on the forest, and it's not clear how drying out our rivers would reduce our fire risks."
"Let me be clear: #climatechange is increasing temperatures & winds. This has nothing to do with CA's water or tree thinning policies," tweeted volcanologist Jess Phoenix.
Per Politico, California GOP strategist Rob Stutzman said Trump's notion that "somehow more water would be mitigating or better in fighting these fires is just mind-boggling," and added, "It's a statement from the president that shows no understanding of hydrology."
Peter Gleick of the Pacific Institute, for his part, told Politico that the president's tweets from Aug. 5 and 6 "show a profound misunderstanding about water, fires, California environmental policy, and of course, climate change."
Footage from the scene shows how devastating the fires in California have already been, and the numbers speak for themselves. Per data from the California Department of Forestry and Fire Protection (CALFIRE), the sheer size of destructive blazes this year dwarfs what the state has seen in previous years. The acreage burned between Jan. 1 and Aug. 5 of last year was around 223,238. In 2018, the state saw almost triple that, with over 629,531 acres burned. That's almost four times the five-year average of 128,587.
And the destruction is still clearly far from over. So far in 2018, the combined area that had burned was nearly 750,000 acres.
As of Aug. 7, the state is battling what appears to be 19 active wildfires, per the CALFIRE map. The two major fires doing the most damage to the state are both in Northern California: the Carr Fire in Redding, and the Mendocino Complex in Mendocino County. And the numbers on these blazes alone show a pretty jaw-dropping scene across the Golden State.
The Carr Fire and the Mendocino Complex — which is one large fire composed of the two smaller River and Ranch Fires — have been burning since July 23 and July 27, respectively. Together, they have burned 457,805 acres as of the morning of Aug. 7, and are still only partially contained.
As of Aug. 7, the Mendocino Complex officially topped the list for California's most destructive fire, with an acreage of over 290,000, according to CALFIRE. The Carr Fire also ranks as one of the deadliest and most destructive in the state's history, with 6 deaths and 1,599 structures reportedly destroyed. And per the experts, it doesn't appear likely that changing water distribution laws is what's going to make or break fire seasons like this one.