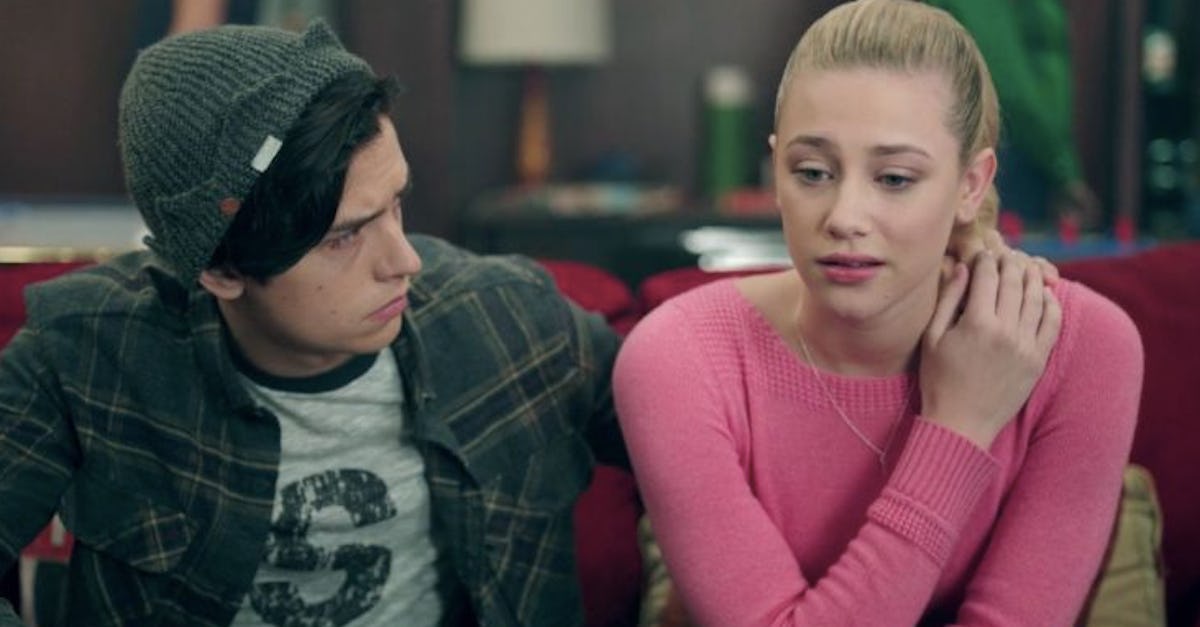 'Riverdale' Producer Reveals A Shocking Detail About Betty & Jughead In Season 2
The CW/YouTube
If there is one thing Riverdale fans have come to expect from the beloved teen drama it's definitely jaw-dropping plot twists. Season 1 certainly had its fair share of twists and turns and, according to Riverdale showrunner Roberto Aguirre-Sacasa, Season 2 is set to deliver the same kind of gasp-inducing shocks. Indeed, Aguirre-Sacasa recently teased something MAJOR about the fate of Jughead and Betty's relationship, saying ARCHIE might play a part in ending their relationship. Naturally, after hearing this, fans are wondering: Does Archie break Betty and Jughead up?
Fans of Riverdale know earlier this summer we heard Betty and Jughead's relationship might be on the line in Season 2. Until now, though, it's been assumed the cause of the trouble would be a new character, Toni Topaz, who's set to join the crew in Season 2. According to a new spoiler, however, it looks like none other than Jug's best friend and Betty's former crush/next-door neighbor, Archie Andrews, might be the one to cause trouble in paradise and I, for one, am not OK with it.
We've seen plenty of relationships begin and end in Riverdale, but, as far as couple drama goes, this takes the cake. Bottom line: Bughead is a treasure that must be protected at all costs.
In July, it was announced Vanessa Morgan would join the cast of Riverdale as Toni Topaz, a bisexual Southside Serpent who shakes things up for the main crew. The actress herself told Bustle back in September her character gets pretty close to Jughead, which immediately set fans off; Morgan said,
I stir it up a bit for Bughead, I'm part of Southside. I'm one of Jughead's first friends... I bring a bit of trouble. I'm the girl in the gang; my character is badass, and Jughead is the son of the King Serpent... why wouldn't I [welcome] him?
The actress' coy hints came after Roberto Aguirre-Sacasa told Entertainment Tonight in August "even the most epic of romances has trouble," referring to Betty and Jughead, of course. The showrunner said,
Bughead is pretty strong, and pretty undeniable, and pretty epic, but you know even the most epic of romances has trouble — and trouble often comes as a third party. So yes, it is conceivable that Toni will potentially test the limits of Bughead.
So naturally, fans have been worried about Bughead. Now it looks like the "third party" Aguirre-Sacasa is referring to might not be Toni, but Archie (or maybe both? Who knows anymore). In an interview with TVLine, the executive producer revealed several Season 2 plot developments, one of which as to do with a possible Archie/Betty/Jughead love triangle none of us saw coming. The EP told TVLine,
For a long time, Archie was what Betty wanted. And I don't think it's like a switch being flipped, that that just changes. Now that he's a little bit older, a little bit wiser, is he like, 'Wow, I let this really good thing get away'? And is it too late?
Aguirre-Sacasa went on to say that Archie and Veronica are "pretty great together," but "the heart wants what it wants."
I'M SHOOK. Of course, this is Riverdale we're dealing with, so who knows what will actually happen. Maybe Jughead gets a little too involved with the Southside Serpents and Archie is just trying to protect Betty, or maybe Archie really does realize he loves Betty. I mean, he's been with almost every other girl on the show. One way or the other, this season is guaranteed to keep us on edge.
That's not all, though. Roberto Aguirre-Sacasa also teased a few other plot details fans can expect to see in what he calls "potentially the darkest storyline we've told." Indeed, the EP says we'll be getting more of "Dark Betty," learning more about Veronica's past, and seeing more of Reggie Mantle.
All in all, it seems like we're in for one hell of a season in Riverdale. Did you really expect anything less?
Riverdale returns to The CW on Wednesday, October 11 at 8:00 PM. Until then, bing-watch the Season 2 trailer.
Check out the entire Gen Why series and other videos on Facebook and the Bustle app across Apple TV, Roku, and Amazon Fire TV.