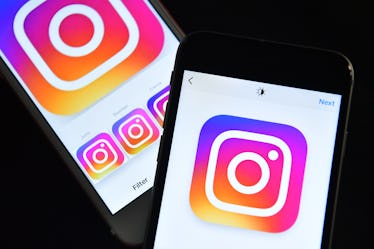 You Can Finally Screenshot IG Stories Without People Knowing & I'm So Relieved
Carl Court/Getty Images News/Getty Images
I am completely unashamed to say that one of my greatest life talents is social media stalking. Not to toot my own horn, but lurking on the internet has been an affinity of mine since the good old days of MySpace, and even AIM. But as technology — and privacy settings — have drastically advanced within the last 10 years, social media stalking has gotten progressively more difficult... especially on Instagram. After a feature the app was testing throughout winter that showed you who took screenshots of your Stories, you might be wondering, "Do people know if you screenshot their Instagram Story?" Fellow social media trolls, you'll be happy to know the answer is now finally "no."
On Thursday, June 14, Instagram confirmed with BuzzFeed News that the app is no longer conducting the test that would notify people when someone screenshots their Story. Elite Daily reached out to Instagram for more information, and it released the following statement: "We paused this test as we continue to iterate and understand what will provide the best Instagram experience for our community."
Back in February 2018, Instagram announced that it was in the process of testing this (slightly horrendous) new feature, which would notify users when people took screenshots of their Stories. The feature was apparently tested out on certain "lucky" users who would receive a pop-up alert, saying that the next time they screenshot someone's Story, the user would be able to see it. The user who posted the Story would find out who screenshotted their Story by looking at the list of people that viewed it, where there would be a special little symbol next to the name of the guilty person. Let me tell you, it was truly scarring.
Alright, I'm going to be completely candid with all of you out there, but this "test" was so rough. I had no way of texting my friends screenshots of their exes, or shots of that kid from high school who got way better looking over the years. I couldn't even send any of my friends screenshots of that girl from my freshman year dorm who just got engaged. It was a real gossip travesty, to say the least. TBH, this "testing phase" was such a hard time for me, and I couldn't be happier that I'm finally free again. Seriously, everyone just needs to let me do my stalking in peace and quiet.
It looks like Instagram has really been doing great lately lately, though, as the app also recently introduced a feature called Mention Sharing. The feature allows users to repost a Story they were tagged in to their own Story, as long as the initial poster's account is public. It's super fun, but more importantly, it comes in handy, like, all the time. When I'm in fun social situations, I tend to forget that my phone exists, and I completely disregard documenting everything. But being able to post other users' Stories from an event I attended is incredibly fun and useful.
Let me put this out there: What I do on Instagram is my business only... as well as the business of all my besties, of course. So when Instagram runs a test that prevents me from conducting stalking sessions on the DL, it totally kills my vibe. I mean, what can I do at that point? Quit the stalking game? Stop informing my BFFs of what's going on in the world? I'm so relieved this test has come to an end, and all of my anxieties can disappear. Seriously, praise the Instagram gods, because this is a social media stalker's dream come true.