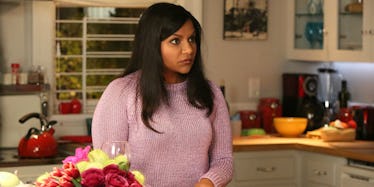 'The Mindy Project' Series Finale Reunites Mindy With An Old Flame & You'll Cry
Hulu
Mindy Lahiri's epic quest for love, career, and basically "having it all" in New York City finally came to an end this week, and it wrapped up in the perfect Mindy Lahiri way — with a wedding, a grand romantic gesture, and a hopeful, heartwarming ending suited for any great rom-com. The Mindy Project series finale delivered on everything that fans of the long-running sitcom could have wanted in a farewell, and that includes an answer to the show's big questions: Do Mindy and Danny end up together? Though Mindy has had her fair share of dreamy boyfriends throughout the six seasons of the series (it is a romantic comedy after all), most fans would agree that her former relationship with curmudgeonly co-worker Danny Castellano was end-game, but that still didn't guarantee the series finale would bring the two exes back together. Let's get into the emotional final episode of The Mindy Project. Spoiler alert: Of course, if you don't want anything spoiled for you, don't read on until you've seen Season 6 Episode 10 of The Mindy Project, "It Had To Be You," for yourself.
The big finale was a real treat for long-time fans of the show, including multiple references to the pilot episode that aired on Fox five years ago. It feels like so much time has passed since we first saw Mindy Lahiri embarrass herself at a wedding and then ride off into the night on a bicycle, but the OB-GYN and hopeless romantic recreated that memorable show-opening scene halfway through the finale. Except this time, she manages to avoid falling into a pool; maybe she really has learned from her mistakes.
The wedding she's fleeing from in the finale is thankfully not another ex she's holding a candle for (Remember when Bill Hader was on this show?), but instead her two close friends Morgan and Tamra, whose oftentimes silly relationship has developed into something much more genuinely sweet and loving in the episodes leading up to their wedding in the finale. It's at this wedding the realization suddenly hits Mindy that she is still in love with Danny. Mindy and Danny were in a relationship for the bulk of the middle of The Mindy Project, resulting in the two getting engaged and having a baby named Leo together, but they broke up at the end of Season 4 over an argument about whether Mindy should continue her career or become a stay-at-home mom. Since the break-up, Danny has only popped up in the show sporadically.
But at Morgan and Tamra's wedding, Mindy realizes that Danny has evolved in the couple of years since their split. Most telling is the fact that he purchased a large amount of equity in Mindy's fertilization company in order to keep it afloat earlier in the finale episode, which was a total 180 from when he urged her to quit the business to focus on raising Leo before their break-up. In true Mindy Lahiri fashion, she sprints out of the wedding, hops on a bike, and books it to profess her love to Danny.
Though there's initially a bit of funny miscommunication and confusion, the last few minutes of The Mindy Project finally gave fans the Mindy and Danny reunion that they have been waiting two seasons for. After the big kiss, the series ends on a sweet shot of Mindy and Danny sitting in the hospital break room watching TV together. Because honestly, there really was no other way that The Mindy Project could have ended, was there?
After the finale went live on Hulu, series creator and star Mindy Kaling posted a moving message to commemorate the show, and what the project has meant to her: the opportunity to play a lead in her own romantic comedy, and tell a full story without it being cut short by networks (despite that one close call).
The series finale of The Mindy Project is streaming now on Hulu.