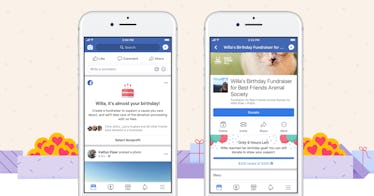 Facebook Birthday Fundraisers Can Have A Big Impact, So Make Yours Count
Whereas your friends might once have requested an iTunes gift card on their birthday wish lists (early 2000s, anyone?), you've probably noticed people on your Facebook feed are now asking for donations to causes and charities for their special day. In the year since the Facebook birthday fundraiser feature has been around, the impact has already been massive. In just a year, the tool has raised over $300 million for causes and organizations, according to information shared by Facebook at an Aug. 15 event.
If you've done one of these fundraisers yourself, you know the drill: Select a fundraiser and a goal amount, and that's it: you've got yourself a virtual, good-karma piñata in minutes. The tool is accessible to over 750,000 nonprofits and charities that have been verified by Facebook using GuideStar, so you can be sure your money is going to a legit cause.
Facebook fundraisers in general have proven to be a wildly successful engine for social good. In the wake of the family separations at the southern U.S. border in June, a fundraiser started to benefit immigrant advocacy group RAICES raised over $20 million in a single week. In fact, fundraisers like this have been so successful that on June 5, Facebook rolled out new features to allow Pages to donate to causes directly and add organizers to their fundraisers. Additionally, beginning in June, the company said it would enable users to set up recurring donations.
Birthday fundraising, which Facebook rolled out in Aug. 2017, has similarly gotten its own street cred, and has been used by the likes of Madonna, Stephen Curry, and Luke Bryan. In April, Facebook added a feature to the tool allowing donations to be matched, maximizing their impact.
One benefit to having the tool based around users' birthdays, as some nonprofits pointed out at Facebook's press event in San Francisco on Aug. 15, is that they happen year-round. Often, nonprofits or causes may get surges of donations during year-end giving around the holidays, or during crises (think: Red Cross after a hurricane). But with a birthday fundraiser, nonprofits get this source of income all throughout the year, not just in the moments when they need to urgently deploy aid.
The fundraisers have been so successful, in fact, that nonprofits like The Trevor Project, which provides suicide prevention services for LGBTQ youth, have said that they're now creating positions just to specialize in the tool and guide users in maximizing their impact.
"This took us by surprise," Braden Lay-Michaels, Chief Development Office of The Trevor Project said about the tool's success at the Aug. 15 event. "It's opened an entire new world for us."
The birthday fundraising tool, he added, has introduced the organization to new donors and cultivated a support network that it wasn't previously tapped into. "It isn't just passive for us or the donor; this is creating a new [generation of] philanthropists," said Lay-Michaels.
The Marine Mammal Center, the world's largest marine mammal veterinary clinic in the world, also said that the birthday fundraisers alone had brought in $30,000 in the year since it's been around — enough to feed the animals for two months of their busiest season. "[We] haven't even promoted the tool," said spokesperson Laura Sherr. "It's coming in organically."
It's not just about the money. No matter how much a user actually ends up raising, the nonprofits said, the impact is still huge. When users create a fundraiser, particularly for smaller nonprofits or causes, it exposes new people to those causes. The act of creating a fundraiser itself, regardless of the amount raised, increases awareness about issues, according to nonprofits present at the Facebook event Wednesday. And users like Yuriko Shotter, who set up a birthday fundraiser for a cat rescue shelter, said at the Aug. 15 event that even if her friends and family had never heard of the organization before, they were more than willing to pitch in a few bucks to help out. "People want to help you reach your goal," she said.
Some suggestions for philanthropic Facebook users? Set your fundraising goals lower and once you've made some progress towards it, up the ante. "Keep moving the finish line," Shotter advises. She'd originally set her goal at $1,500, but ended up bringing in over $7,200.
Another strategy users who fundraised found useful was to set their goal amount based on a tangible item or product, or an increment of that amount. For Shotter, the goal amount was the cost to build a specific shelter for the cats, which she more than made.
The company said to expect a new feature to be added to the tool this fall that will help users select which charities to give to based on a variety of factors. For example, if you're an animal lover but not sure where you'd like to donate, the new feature will make suggestions and help you sort through the many options of charities available to choose the right one. The company added that it anticipates a feature that will disclose where the money is going — for example, what percentage of a donation goes to a nonprofit's administrative costs versus projects directly.
So if you're thinking about setting up a fundraiser to mark your birthday this year, go ahead and celebrate. The world will thank you for it.