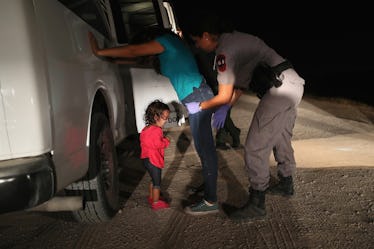 This Advocacy Group Helping Families Separated At The Border Will Inspire You To Act
John Moore/Getty Images News/Getty Images
As of 5 p.m. ET on Friday, a fundraiser started by a couple on Facebook had raised nearly $19 million to help reunite families separated under President Donald Trump's new border policy. Nearly half a million people had donated; nearly half a million had shared it. The beneficiary? The Refugee and Immigrant Center for Education and Legal Services, or RAICES, an advocacy group helping families separated at the border. The Texas-based nonprofit is working on all fronts to do so.
"Thanks is inadequate for the work these funds will make possible," wrote RAICES on its Facebook page, citing the fundraiser and the couple who started it. "We know it will change lives. We know it will save lives by keeping people from being deported to unsafe countries."
The viral Facebook fundraiser — one of the social media platform's largest ever, per The Washington Post, was supporting RAICES' Family Reunification Bond Fund. The bond fund supports legal services and funds for parents who have to surmount expensive immigration bonds before they can be released from U.S. custody back to their families. As of writing, RAICES' official fundraising page indicated it had brought in over $5.4 million in donations. Multiple celebrities have shared their support for then nonprofit over social media in the last week, including with donations of their own.
On Tuesday, officials in the Trump administration confirmed that over 2,300 children had been separated from their parents as a result of its new "zero-tolerance" policy since its implementation in early April. The policy mandates prosecution of every person who crosses the U.S. border illegally, thereby forcing the separation of parents awaiting trial and their children. RAICES reports that for a 13-day stretch in May, 658 children were separated.
In response, there has been global outcry over the massive uptick in family separations at the border, as images, videos, and audio have gone viral, depicting traumatic scenes at the border. RAICES is one of the organizations working to help those families.
RAICES, in conjunction with the Texas Civil Rights Project, is tackling the mammoth task of documenting familial separations via the Family Reunification Program. Per a statement on the organization's website, RAICES has received the names of 184 individuals separated from their kids since the start of this month in one Texas court alone, and in their own work, they've collected nearly 200 other families since January 2017.
The organization has also launched the the Legal representation, Education, and Advocacy Fund (LEAF), which specifically helps unaccompanied minors who don't have anyone to represent them. According to the LEAF page, the program fundraising goal was $500,000. As of writing, the current amount received for the project is over $1.4 million.
According to RAICES, more than 75 percent of children who appeared in Texas' immigration court in 2017, or 13,000 kids, did not have any representation. The nonprofit also says it recently learned that the Trump administration "is ending funding for representing thousands" of these children. (Though details of this change weren't available on the website, the Post reportedly confirmed this via other nonprofits.)
Children who enter the U.S. alone are automatically sent to the Office of Refugee Resettlement (ORR), housed under the Department of Health and Human Services (HHS). Additionally, children who arrived illegally with a parent, under the Trump administration's new policy, must be sent to the ORR after 72 hours, the maximum holding period for minors in immigration detention facilities.
RAICES also lists a host of other initiatives aimed at supporting immigrants. One is the Karnes Pro Bono project, which gives women and families legal assistance, helping them prepare for the interviews they need to pass in order to seek asylum. In addition, the organization provides immigration accompaniment, whereby allied individuals or groups support immigrants entering the U.S. through the process, which can include attending court dates and check-ins with authorities.
The massive outpouring of support for organizations working to fight the Trump administration's policy and provide help for families who've been affected by it was not limited to RAICES. The American Civil Liberties Union (ACLU), for example, has been receiving a heart amount of funding from donors following the news of family separations.
"This is such a profound rejection of the cruel policies of this administration," added RAICES in its Facebook post about the fundraiser. "There are terrible things happening in the world. And there are many people who are deciding not to look away but to do something. Thank you. Thank you. Thank you."