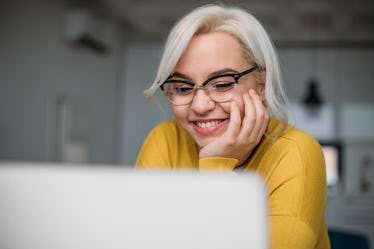 Experts Get Real About Whether Blue Light Glasses Are Actually Worth Trying
I love technology as much as any other millennial, but I have definitely been experiencing some eye strain lately. If I'm not writing on my computer for work, I'm drafting documents for grad school or watching one too many YouTube videos in the latest Shane Dawson series. So when I heard about glasses that help protect your eyes from the negative effects of staring at technology all day, it sounded almost too good to be true. I could wear a cute pair of spectacles and contribute to my eye health? But do blue light glasses really work? Research is mixed, but according to some experts, wearing them might seriously help prevent some problems.
If you're someone who struggles with migraines after spending your day online, blue light glasses could help reduce your pain. "Blue light filtering glasses limit high energy visible light, which can contribute toward digital vision syndrome," Dhruvin Patel, an optometrist and founder of Ocushield, tells Elite Daily in an email. "By limiting blue light, the cumulative exposure is reduced, therefore [leading to] less visual stress and eye fatigue, which can lead to headaches due to the binocular visual system struggling."
Besides the occasional pesky headache, though, you could develop some more long-term issues as a result of hours spent scrolling on Twitter. "It is controversial and by no means definitive, but there is some evidence that blue light can damage your vision — specifically through the prolonged absorption of UVA light into the retina," Greg Bullock, a blue light researcher at TheraSpecs, tells Elite Daily. "Over time, this can damage cells in the eye and potentially hasten the onset of issues like macular degeneration or cataracts, both of which can impact a person's vision in the future."
"The biggest issue with screen time is digital eye strain," Rahul Khurana, M.D., an ophthalmologist and vitreoretinal surgeon in Northern California and spokesperson for the American Academy of Ophthalmology, told Women's Health. One easy way to give your eyes a break, the outlet explains, is to look at an object that's at least 20 feet away from you for at least 20 seconds, and to do this about every 20 minutes.
But there's also a surprising additional use for a shiny pair of these specs. "Blue light glasses can also help with reducing glare from harsh lighting, such as when driving at night," says Patel. "This is a rising problem due to the LED headlights from cars getting bigger and brighter, similar to smartphones."
Additionally, when it comes to nighttime, blue light glasses could help to protect your eyes during those midnight phone calls you cherish with your BFF, as the light coming from your smartphone can make it hard to sleep. For a study published in the scientific journal Chronobiology International, researchers tested the effects of blue light exposure on sleep patterns by asking 20 adults to wear either blue light-blocking glasses or ultraviolet-blocking shades for the three-hour period before they fell asleep. After using their respective pairs of glasses for only three weeks, the participants wearing the blue light glasses noticed significant improvements in their sleep quality. What's more, the study also found that those who wore blue light glasses throughout the experiment reported better moods compared to the other group.
If you already wear prescription glasses during the day, then I'm guessing you probably don't want to double up and wear blue light ones over your regular spectacles. "Some opticians offer a blue light coating for people who wear prescription glasses as an added extra," explains Patel, so it might be worth asking about that at your next eye exam. You could also stick to your regular glasses while still reaping the protective benefits by instead installing a blue light screen protector on your smartphone or your laptop monitor. Switching your devices to "night mode" could also help rest your eyes, says Patel.
If you want some extra tips to protect your eyes from the effects of looking at screens all day, The Vision Council suggests keeping your laptop at least an arm's length away, reducing any overhead lighting to cut down on glare, and making the text sizes bigger.
Whichever pair of blue light blocking glasses you choose to try out, you certainly won't be making a spectacle of yourself, because the accessories are not only great for your eye health, but they're pretty darn cute as well.