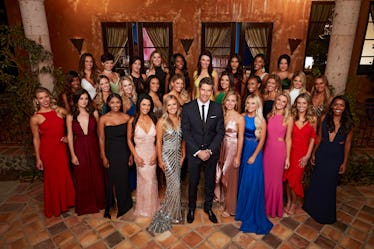 Here's How Much Money You Make As A 'Bachelor' Contestant & It's Kind Of Upsetting
ABC/Craig Sjodin
Now that The Bachelor's Arie-Lauren-Becca love triangle is all said and done, I have some questions about how everything went down. Obviously, I want to know what ABC was thinking when they chose to air that super uncomfortable footage of Arie and Becca's breakup, but even more so, I'm curious what Lauren B. got out of her 10 weeks on the show. Sure, she received an engagement ring from Arie during the After the Final Rose special, but what about a salary for her time in the mansion? Do Bachelor contestants get paid? My curiosity about Lauren B. sent me digging for answers, and what I found was actually kind of upsetting.
In short, the answer is no. Contestants on The Bachelor or The Bachelorette don't get paid anything for their time on the show, but I guess if you win, you have a small chance of finding love? Out of 35 total seasons of The Bachelor and The Bachelorette, only six couples are still together. With those slim odds, I'm going to say that putting your life on hiatus for no salary is probably not a great financial decision. But appearing for free isn't even the worst of it — in fact, many contestants on The Bachelor actively pay to be on the show.
Many Bachelor contestants actually go into debt trying to compete for a final rose. In order to appear on the show, you have to agree to take time off from work (which very well may be unpaid), give up your phone, and say goodbye to your family and friends for what could be as long as eight or nine weeks. According to Mic, contestants are required to provide most of their own outfits, and the bill quickly adds up when you have to buy a new suit or floor-length dress for every elimination ceremony. Apparently, ABC only "provides dresses for the two finalists in the finale episode" of The Bachelor, and blogger Dana Weiss told Mic that "even though she might get sent home after the first rose ceremony, a contestant must pack enough TV-ready outfits to last the whole competition." The Bachelor franchise loves switching things up and going on trips, so that means contestants must pack clothes for both warm and cold climates — after all, you never know where ABC will take you next.
For both male and female contestants, the burdens of creating your own wardrobe can wreak havoc on your finances. In 2016, former contestant Jillian Harris discussed the harsh truth of being on The Bachelor in a blog post:
The girls do have to bring all of their own clothing and of course, they want to be wearing the best clothes EVER to be seen on TV in!!! I had re-mortgaged my house and I spent something like $8,000 on clothing (which is still a lot)… but now that designer labels are even more important, I can see how someone can spend [$40,000]… easily!!!!!
Refinancing a home is no joke, especially when there's no guarantee that you'll be making enough money to pay off your mortgage in the future.
For some contestants, the realities of being on a top-rated TV show — all of America knows your business, you have no control over how you're portrayed by producers — make it difficult to sustain a career post-Bachelor. Former investment banker and The Bachelorette Season 11 contestant JJ Lane told MarketWatch that he had trouble finding a job once he returned from filming (he was unemployed when he went on the show). "I didn't understand the magnitude of the show and how hard it is to get a real job right after," Lane said. "Everyone knows who you are and employers see it as a distraction."
All this being said, it seems slightly ridiculous that ABC won't pay contestants even a little for appearing on The Bachelor. These men and women are giving up their lives to appear on the show. And considering that the star of The Bachelor or Bachelorette makes around $100,000 per season, paying contestants even a fraction of that would help make their lives much easier.
Or, at the very least, pay for their freaking outfits.