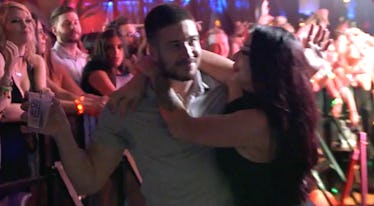 Fans Are Convinced This Epic Duo Hooks Up On 'Jersey Shore Family Vacation' Season 2
MTV
Could there be a new romance brewing among the Jersey Shore cast this season of Family Vacation? The final moments of the Season 2 premiere seem to be hinting at it, and now fans are wondering: Do Angelina and Vinny hook up on Jersey Shore Family Vacation in the new season? It looks like Angelina will be making a huge impact when she returns to the series, and not just by fighting with JWoww.
Although the two-episode premiere of Jersey Shore Family Vacation: Part 2 only showed Angelina for a couple of minutes at the beginning, an invite from her new bestie Snooki will lead her to become one of the cast as the new season continues... or at least, that's what the teaser for the upcoming season that aired at the end of the premiere seemed to imply. In the first few moments of the Season 2 premiere, we see Snooki meet up with Angelina, and reveal that after her former castmate came to Miami to make her peace in the first season of Family Vacation, the two have now become close friends. Snooki even extends an invitation for Angelina to join the rest of the gang in Las Vegas, which feels like a pretty bad idea since Angelina had recently reopened her ongoing feud with JWoww in a shady Instagram post.
Sure enough, once Snooki tells the house that Angelina may be joining them later in the season, JWoww is not having it. Clearly, we are going to see another Angelina versus JWoww match at some point, but the rest of the premiere episodes remains totally Angelina-free.
But while the premiere episodes don't feature the ousted housemate, the teaser clip for the season that played at the end of the premiere was full of Angelina. It looks like she will be back for more than just a couple episodes this time around, and true to form, she is going to cause a whole lot of drama. As expected, Angelina and JWoww will clash multiple times: One clip features Angelina calling JWoww a wh*re, and another one shows the two women getting into a physical fight at a bar.
And it looks like Angelina's return won't only consist of trading insults and fists with JWoww. The teaser also hinted at a hook-up between Angelina and Vinny, as JWoww advises Angelina to hook up with Vinny again and we see a clip of Angelina kissing Vinny on the cheek before playfully pushing him away from her. As fans of the original series will recall, Angelina and Vinny actually first hooked up in the second season of Jersey Shore, but nothing ever really developed from that.
So, will this season of Family Vacation be their second chance at a relationship? Well... probably not. Although Vinny is now single after breaking up with his girlfriend post-Season 1, Angelina is currently engaged, so don't expect her to go cheating on her fiancé on national television. Then again, I guess you never know what will happen on this show.
Jersey Shore Family Vacation airs on Thursdays on MTV.