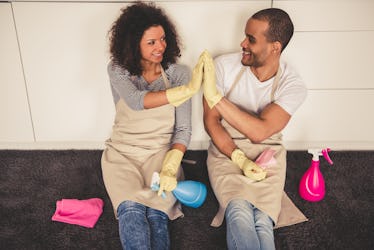 Here's How To Divide Chores With Your Live-In Partner, So It's Equal
When you think about all the wonderful things that come with living with someone you love, dividing chores with your partner is probably nowhere near the top of the list. However, choosing how to maintain your home is actually a really important part of living with someone, not just because no one likes the dishes and laundry piling up, but because how each of you contributes to your home and makes it, well, a home. But if the chores aren't split up fairly, it can also easily become a source of friction, warns Dr. Gary Brown, a prominent couples' therapist in Los Angeles.
"In general, it is important to divide up the chores so that both of you feel like you are contributing to your home," Brown tells Elite Daily. "This helps build the idea that you are active partners. If you don't divide some of the chores, one of you may wind up feeling resentment, and over time, that resentment can turn into bitterness. And bitterness is like rust. It silently corrodes the heart of a relationship."
Knowing this, the question becomes: How do you divide the chores in a way that feels fair? As it turns out, it doesn't have to be that difficult. Here's how the experts say to fairly divvy up the housework with your live-in boo.