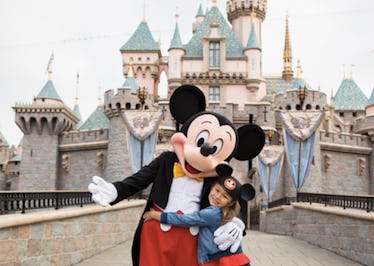 You Can Actually Use Your Disney Ears To Raise Money For Charity, So Snap That Selfie
Disney
Personally, I find November to be one of the most cheerful months of the year. After eating myself into a food coma on Thanksgiving, I usually spend Black Friday shopping 'til I drop with some of my closest childhood friends. Not everyone is able to have a happy and healthy November, though, so it's important to consider the less fortunate when you're celebrating with friends and family. If that's the case, you might be looking for an easy way to raise money for a cause, and Disney's 2018 Share Your Ears Campaign is definitely worth looking into.
Disney — once again — launched their Share Your Ears campaign on Sunday, Nov. 4 for the third year in a row, according to a press release. The campaign donates to Make-A-Wish, a charity which gives sick children the chance to have their "wishes" come true. To participate in Share Your Ears, fans are simply asked to post a photo of themselves wearing their Mickey or Minnie to Facebook, Instagram, or Twitter, using the hashtag #ShareYourEars. Each photo publicly posted to social media until Nov. 17 will donate $5 to the cause, totaling up to a whopping $2 million. You can make a pretty major difference by posting just one simple photo — isn't that wild?
If you don't have any Mickey Ears to get in on this philanthropic fun, though, don't fret — Disney totally has you covered in the Mickey ears department. According to the press release, if you happen to pay a visit to any Disney Store in the U.S. or Canada during the campaign, you'll be able to decorate a free pair of paper Mickey Mouse ears yourself. From there, you can snap a pic using their iconic #ShareYourEars photo frame, for you to post to your page. It's literally that easy.
On the other hand, if you find yourself hanging around a Disney Park or resort before Nov. 17, you'll be able to take advantage of some really cool #ShareYourEars photo opportunities. According to the press release, certain parks and resorts around the world will have unique #ShareYourEars photo walls. Disney Cruise Lines will be allowing passengers to use classic elements of the ship to use as backdrops. You can even check out Disney's Mickey: The True Original Exhibition for a special backdrop there. They're doing all they can to have you snap some solid pics, and I'm personally loving all of it.
In a press release, Vice President of Corporate Alliances for Make-A-Wish America Holly Thomas said she feels extremely honored to partner with Disney again. She also mentioned she looks forward to making a difference in the lives of even more children and their families.
In the press release, Thomas said:
We are thrilled to once again join forces with The Walt Disney Company for the Share Your Ears campaign to provide people with a fun, family-friendly way to make a lasting, impactful difference in the lives of children with critical illnesses.
While Share Your Ears only lasts for a few weeks in November, Disney and Make-A-Wish pretty much work together year-round. According to the press release, over 10,000 Disney wishes are granted to kids each year, and Disney was part of Make-A-Wish's first official wish back in 1980. Pretty amazing, right?
Once you've posted your #ShareYourEars pic to social media, make sure to check out these charities to donate for the holidays. Even if you don't have much to spare, any donation counts and is welcomed with open arms.
Make-A-Wish is a widely-respected charity, and taking a photo in your Mickey ears might honestly be the easiest way you can donate. Make sure you snap that pic before Nov. 17, though — you don't want to run out of time.