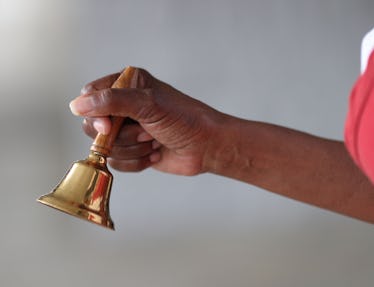 These Are The Christmas Charities You Can Donate To For Sharing Holiday Cheer
Joe Raedle/Getty Images News/Getty Images
Between spending time with friends and family, engorging on hearty meals, watching festive movies, exchanging gifts, and maybe even sitting by a beautifully decorated tree, menorah or kinara, the holiday season is warm and cheerful. Since not everyone, however, is fortunate enough to have access to their loved ones, food, presents, or a home, the holidays are also an important time to spread cheer to those less fortunate. That's why we've come up with a list of Christmas charities to donate to this holiday season so you can spread a little Christmas spirit to those who really need it.
1. Feed the elderly with a nice Christmas meal through Meals on Wheels.
About one in six seniors are living below the poverty line, according to Census data. A large population of these elderly folk don't have family or friends, and oftentimes, they spend the holidays by themselves. Many of them also are disabled or can't drive, leaving them with no access to soup kitchens or food banks. Meals on Wheels ensures that millions of homebound senior citizens are fed throughout the year, and that during the holidays, participating senior citizens are fed special holiday meals. So definitely give back to the elderly this holiday season with a Christmas dinner they can enjoy, if you can.
2. Help struggling families pay bills, provide gifts, and eat nice meals through Salvation Army.
If you thought that the Salvation Army were just those red buckets that collect loose change from a guy dressed as Santa ringing a bell, you're wrong. Salvation Army helps struggling households pay their utility bills for those cold winter nights, put clothes and toys under the tree for over one million kids a year, host Christmas meals, stock food pantries, deliver food to individual families, and spread Christmas cheer with hospital visits and nursing home events. Definitely consider helping out a few families this holiday season and find out how you can donate to or volunteer with Salvation Army.
3. Help furnish homes for families in need with The Wish Project.
The Wish Project provides low income families with furniture, baby supplies and home goods, while simultaneously helping the environment as they make sure to recycle and reuse goods. When participating families have their needs met, they are able move forward and out of the program. The idea of giving basic goods to people in crisis is that they help end short term suffering while helping to end homelessness. They're currently accepting gifts this holiday season, as well as their usual furniture and basic home goods to spread a little extra cheer to families in need this month.
4. Donate a brand new toy to a child in need through Toys For Tots.
Accepting monetary donations and toys, Toys for Tots is highly-regarded 60-year-old charity that helps make less fortunate children's Christmas just a little more special. You can send a toy or money on their website, or you can simply drop off an unwrapped toy at any of their thousands of donation spots. The program received ample support from First Lady Michelle Obama back in 2009, and is currently sponsored by Toys R Us, Hallmark, and The Walt Disney Company.
5. Give a little love to our furry friends in need through Santa Paws Drive.
While we all love showering our beloved pets in treats and chew toys on Christmas morning, shelter animals are also in need of some of that good old-fashioned holiday cheer. Inspired by Toys for Tots, Santa Paws was the first online pet toy drive to deliver toys, treats, pet supplies, and even money to non-profit and no-kill shelters throughout the U.S. Consider our less fortunate animals this holiday season, and make sure to spread a little love and cheer their way.
Although it's easy to get wrapped up in your own Christmas agenda, make sure to consider those in need this holiday season. A little cheer can definitely go a long way!
Check out the entire Gen Why series and other videos on Facebook and the Bustle app across Apple TV, Roku, and Amazon Fire TV.