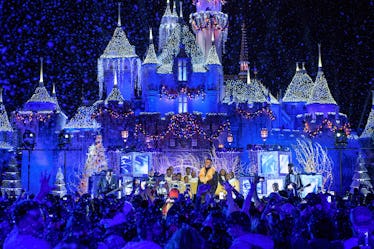 Disneyland's Opening Its First Brewery & We're Excited To Bibbidi-Boppidi-Booze
Handout/Getty Images Entertainment/Getty Images
Aside from dancing with all of the Disney princesses, going on every single ride, and getting a few hundred photo ops in a pair of Mickey Mouse ears, Disneyland's food and beverages are all part of the experience. And after a long and exciting day of running around the park and eating a few too many Mickey Mouse ice cream bars, sometimes getting an extra little somethin' somethin' to relax feels absolutely vital. But if you wish upon a star, you'll probably find yourself at a bar (those are the lyrics, right?). That's why we're so excited that Disneyland's Ballast Point Brewery is coming soon, and it's truly going to be the belle of the ball.
What do you get when you combine great beer and Disneyland? The answer is: "Hakuna Matata... It means no worries." Because after a tiring day filled with lots of small children in need of a nap, extremely long lines, and a whole lot of sunshine, an ice cold beer could actually be considered a "simple bare necessity." The best part is, however, that bippity-boppity-booping yourself off of Disney grounds won't even be necessary. Now how cool is that?
Although visitors can already get a little boozy at California Adventure, or even get a little buzz (Lightyear) at Downtown Disney, Disneyland's upcoming Ballast Point Brewery will include not only a state-of-the-art tasting room, but also a brewery, an outdoor beer garden, a kitchen, and a restaurant. All in the realm of the number one happiest place on earth. So let's just get down to business... not only to defeat the huns, but also to order a refreshing Sculpin IPA to wash all our troubles away (right after countless rounds on It's a Small World, of course).
According to NBC7 San Diego, in addition to serving all of their classic drafts, Ballast's Disneyland location will serve a slew of never-before-sipped exclusive and limited-edition beers. So what exactly does that entail? They haven't outwardly specified any of their brews-to-come, but we're obviously hoping for an "under the sea" beer to compliment the hundreds of times I plan to ride Splash Mountain. I have my mermaid tail ready, my shell bikini is packed, and my tail fins are crossed.
Although Disneyland's Ballast Point Brewery will be among the seven locations already open in the state of California, it'll be Ballast's first location to open in Orange County, according to Thrillist. It's not set to officially open until late 2018, but we're really hoping it opens ASAP. Either way, we're positive it's going to be beyond incredible.
The brains behind it all, and the president of Ballast Point Brewing, Marty Birkel, gave us the deets behind the inspiration in a quick statement statement per Thrillist:
As one of Southern California's premier brewers, for the team at Ballast Point, we couldn't be more honored to work with such an icon in our great state and become the first brewer at Downtown Disney. We hope SoCal locals and visitors alike will enjoy the wonderful atmosphere, seasonal cuisine, and good cheer (and beer) of our signature tap room experience that we plan to bring to Downtown Disney.
So, in the wise words of Elsa, "let it go, let it go" and get excited to get goofier than Goofy, himself. We're seriously stoked for Ballast to serve up some magic at their Disneyland location to truly get the party started. And if it turns out that a small French-speaking rat is actually running the entire brewery, we won't be mad. Because really anything can happen at Disney.
Check out the entire Gen Why series and other videos on Facebook and the Bustle app across Apple TV, Roku, and Amazon Fire TV.