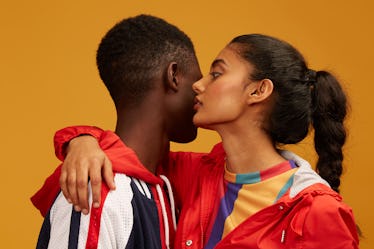 Here's What To Do When Your Partner Accidentally Does Something To Make You Sad
I learned two things at summer camp — macrame and the rule of Ouch Oops, a communication tactic used when someone hurts your feelings by accident. While my camp days are long gone, when your partner accidentally does something to make you sad, having a low-key and timely way to express your feelings can take the pressure off of big "talks," and keep big resentment from building up. Smaller, more frequent mentions when something hurtful happens (Ouch) and immediate validation and an apology (Oops) can be an effective way to express your feelings when you did not mean to be hurtful.
"One of the biggest mistakes in relationships is the avoidance of direct conversation with the hopes of not creating conflict," Dr. Joshua Klapow, Ph.D., clinical psychologist and host of "The Kurre and Klapow Show" tells Elite Daily. "When you partner hurts your feelings there is no reason (at all) to not let them know in an honest, calm manner. If your partner has hurt your feelings they should and often do want to know."
If you can express when you're in pain, and be specific about what hurts, you and your boo may learn to communicate in a way that's best for both of you. I spoke with Dr. Klapow about the accidental ouches, and the best ways to say "I'm sorry."