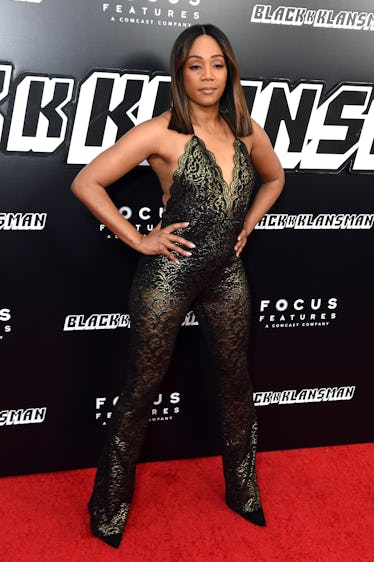 Tiffany Haddish Wants You To Know This Actress Definitely Did NOT Bite Beyoncé
Michael Loccisano/Getty Images Entertainment/Getty Images
The "Who Bit Beyoncé?" saga continues. In a recent interview with Glamour, Tiffany Haddish talked about her career. And just like in everything Haddish does, she laid all her cards on the table and was unapologetically herself. That's why she put the whole "Did Sanaa Lathan bite Beyonce?" question to bed. She told the outlet that in the internet's fervent search to label the infamous biter, Sanaa Lathan became the most talked about theory, and it resulted in Lathan becoming the presumed biter. But Haddish says she gave an inch and the internet took a mile.
The comedian says she "didn't confirm sh*t" when she was initially asked to confirm or deny if the rumors about Lathan were true. The whole "Who Bit Beyoncé?" craze started earlier this year when Haddish revealed in an interview that she almost got in a fight with a woman at an after-party for one of JAY-Z's concerts because the unidentified woman was apparently flirting with Bey's man. Haddish posted individual selfies with Beyoncé and JAY-Z to her Instagram not long after that party in December. In her selfie with the queen, Bey is seen covering her cheek. At first glance, she just looks coy, but Haddish later revealed that it was because someone had literally bit Beyoncé's face. But don't just jump to the conclusion that it was Sanaa Lathan just because we have nothing else to go on and she just happened to be at that party, y'all!
What really seemed to cement the conspiracy theory that the biter was Lathan was an interview Haddish did with The Hollywood Reporter. Haddish's interviewer straight-up asked her if it was Sanaa Lathan who bit Queen Bey. "The reporter was like, 'Sanaa Lathan?'" Haddish told Glamour. "I'm, like, three drinks in, so of course I was about to laugh." She continued,
They thought I put her name out there, but I didn't. I never said nothing. And Beyoncé didn't say nothing. Let the person who [bit Beyoncé] bury themselves … I ain't trying to destroy this girl. I didn't say sh*t about the girl.
Haddish later revealed on Instagram that she signed an NDA over this whole biting fiasco, so we're really never going to get the truth from her.
Part of The Hollywood Reporter interview with Haddish delved into the consequences of the internet deciding it was Lathan who bit Beyoncé. "I'm super good friends with [Sanaa's] stepmom and her dad [Stan, a producer-director]," Haddish told the outlet at the time, "and they were mad at me." She continued,
They were like, 'Why would you do this to the family? You know, black actresses, you guys have to stick together, it's so hard for you guys to get work as it is, why would you try to ruin her career?' But I didn't try to ruin her career. I never said her name! I was just trying to say how Beyoncé kept me from goin' to jail that night. I coulda just shut my whole career down.
Sadly, it doesn't seem like we'll ever know who really bit Beyoncé, but Tiffany Haddish just made it clear that it wasn't Sanaa Lathan.