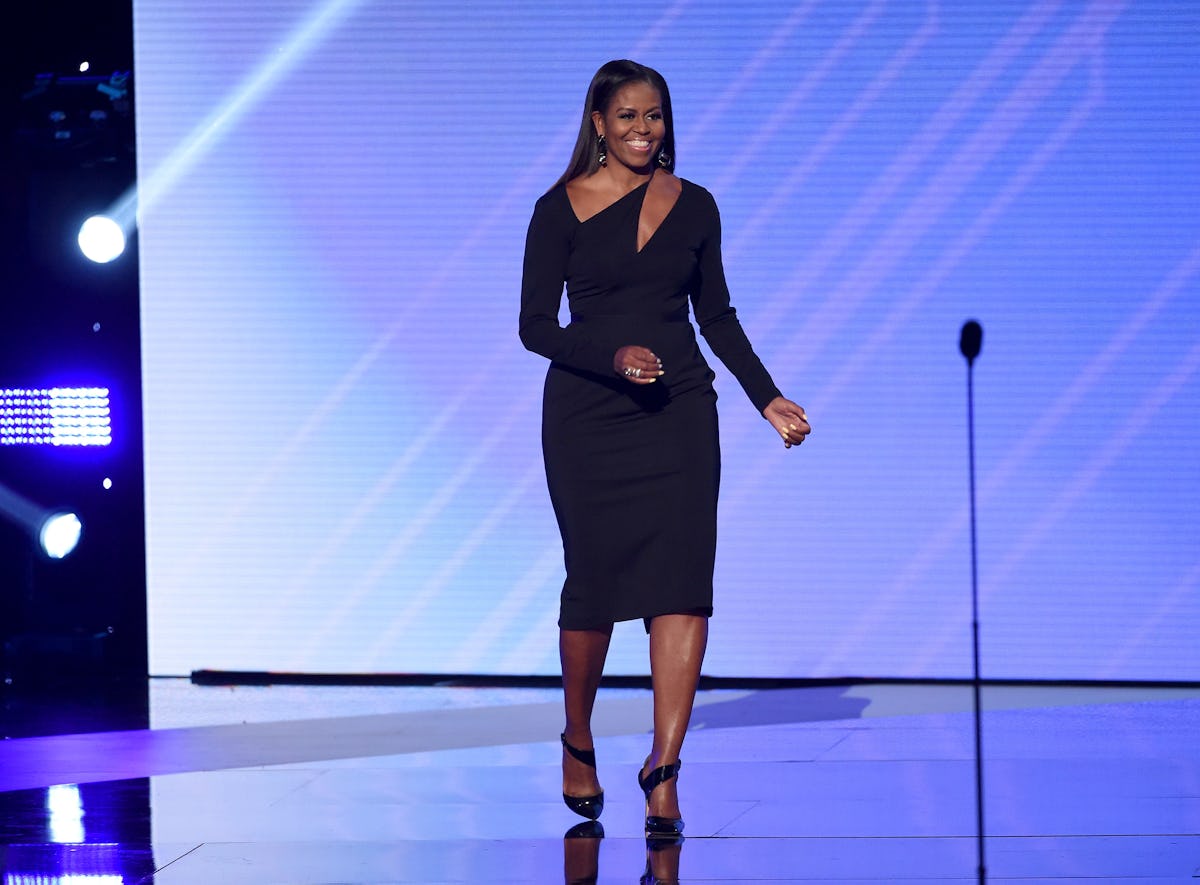 Michelle Obama Might Have Shaded Donald Trump About Twitter, & It's Pure Art
Kevin Winter/Getty Images Entertainment/Getty Images
Think before you speak. It's an aphorism as old as time, and yet, we keep finding reasons to repeat it, ways to modernize it. The latest incarnation? Think before you tweet. That is, at least, the advice Michelle Obama recently gave about how to avoid Twitter rants, misspellings, and other social media nonsense. Who ever could she be talking about? All right, let's be real: Michelle Obama shaded Donald Trump in a speech (probably) — without evening naming him.
According to the New York Post's Page Six, during a Nov. 28 speech in Canada, the former first lady told the several-thousand-strong audience that it's "never a good idea" to tweet first thing in the morning, nor is it a good idea to "tweet from bed." Further, she said, if you're still thinking of tweeting, you should continue to err on the side of caution: "Then you need to edit and spell-check it," she told the audience.
For those who frequent the social media website, despite the fact that Obama didn't name anyone, the intended recipient of the advice was pretty clear.
President Donald Trump frequently tweets in the early hours of the morning (or alternatively, late at night), and is known to make spelling mistakes. There was the famous "covfefe" but he also makes subtler, more frequent mistakes, like when he tried to tag UK Prime Minister Theresa May in a tweet on Nov. 29 and ended up tagging a totally different woman. Clearly the mark of a hasty tweet.
Well, according to Obama, Trump should step away from the phone to at least think before he presses send.
But why was she talking about the current president, anyways?
Obama was in Toronto on Nov. 28 to give a solo speech hosted by the Economic Club of Canada and Plan International Canada on the topic of education and equality for girls and women. After being introduced by Canadian First Lady Sophie Trudeau, Obama gave a 45-minute speech titled, "The Economics of Equality: Advancing Women and Girls to Change the World," according to Teen Vogue.
According to the Toronto Star, the topics Obama spoke about ranged from racism to mental health to social media. She gave the audience, which was at least 50 percent youth, advice on how to comport oneself on social media.
"Here's the thing people need to understand," she said. "We use social media by committee. So when we use social media, I usually think about what I want to say." She then said that she and her team discuss it, go through several drafts, and then — and only then — maybe hit "send."
That is a clear departure from Trump's modus operandi, who just yesterday, Nov. 29, spent his morning retweeting anti-Muslim videos from a prominent member of a neofascist hate group. Despite the outrage elicited by Trump's snap social media decision, he has yet to remove to videos, and he even had White House Press Secretary Sarah Huckabee Sanders defend his choice at a White House press briefing on Nov. 29, saying that, "whether it's a real video, the threat is real." Sanders repeated that line again at the Nov. 30 press briefing.
It's unsurprising that Obama took the high road while still addressing something weighing on many Americans' minds. (Fully two-thirds of Americans don't like that Trump tweets.) After all, she is married to the guy who said, "don't boo, vote" and who frequently makes statements about fighting Trump's policies without mentioning Trump himself.
At any rate, the 45-minute exchange was, by all accounts, enlightening. The Star said Obama made the event feel "like a family room chat."
Sounds wonderful. Come back, Michelle!