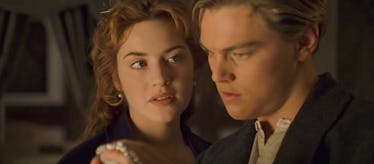 Kate Winslet Admits She Never Had A Crush On Leo DiCaprio & My Heart Is Breaking
Youtube
Very few things in this life beat Titanic Leo. Don't trust anyone who tells you with a straight face that they didn't feel something when he walked past that grandfather clock on that magnificent staircase, because they're a damn liar. Even the largest of cynics have to admit they'd be honored to have him draw us like one of his french girls, and when we all go to bed at night we get comfort from the fact that he and Titanic co-star Kate Mutha-F*cking Winslet are close IRL. Still, did Kate Winslet an Leonardo Dicaprio ever date? I mean... define date. Because if it's acting in a sex scene in a steamy old-timey car then yes, they definitely dated. But if you're listening to what Kate Winslet has to say, prepare to be heartbroken.
Kate Winslet, who is now 41 years old, recently looked back on the iconic movie that shot-rocketed her into stardom. At the super pure age of 22, she laid down naked on a fancy couch and stared directly into the eyes of baby-faced Leo, a moment that changed all of our lives – but especially my 12-year-old life – forever. Since then, the two have remained great friends, triumphing one another in their growing, incredible careers and appearing together every so often on red carpets.
In Winslet's acceptance speech at the 2009 Golden Globes for her role in Revolutionary Road, she looked at DiCaprio and said,
Leo, I am so happy I can stand here and tell you how much I love you, and how much I've loved you for thirteen years... I love you with all my heart, I really do.
GTFO with this, Kate!!!
Now, she's taking all of it back. While promoting her new movie The Mountain Between Us, Winslet confessed on ITV's talk show Lorraine that she and DiCaprio were never truly romantically involved, which is some of the most depressing sh*t I've ever heard.
She said,
I think for Leo and I, it was seven months of very intense work. We were both really very young...
... Luckily, and this is the fortunate thing, we never fancied each other. I know that's really annoying to hear, sorry, but we really never did.
Annoying? Try heartbreaking. Soul-crushing. Void of any reason to live.
She added, "It did mean that we were just able to have this ...we were able to tease each other, which we still do. It's really amazing."
Wow. End me.
Sure, sure. There are probably professional benefits to not being in love with your co-worker, but the people don't care about that! The people care about what happened in the bottom of that boat when a drunken Kate and Leo danced together hand in hand, heart in heart.
Here. Watch the depressing news for yourself.
Sure, if we look at the facts they say Winslet has been married to three different men since meeting Leo, and has been happily married to current husband Ned Rocknoll since 2012. But, what are facts really?
For his part, DiCaprio has never been married, which we all know is because he is holding out for Winslet.
As recent as July of this year, the two friends were spotted lounging together poolside outside of DiCaprio's St. Tropez villa, a sight that is almost too good to be true. Sure, they're a little older, a little wiser, but damn if we don't see Jack and Rose floating on that door every time these two are in close proximity.
Kate, I'm not going to say you've ruined my life, but I'm going to imply it strongly on the internet.
Check out the entire Gen Why series and other videos on Facebook and the Bustle app across Apple TV, Roku, and Amazon Fire TV.