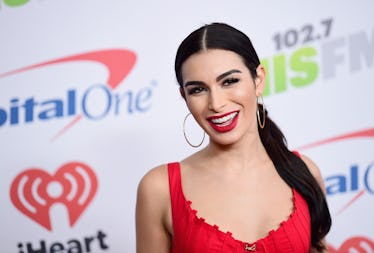 Here's The Truth About Whether Ashley I. Cheated On Kevin Wendt With Jared Haibon
Emma McIntyre/Getty Images Entertainment/Getty Images
Last night, #BachelorNation was rocked by the announcement that Jared Haibon and Ashley Iaconetti are officially in a relationship, but it leaves The Bachelor Winter Games viewers wondering – did Ashley Iaconetti cheat on Kevin Wendt with Jared Haibon? This winter, Iaconetti competed for love for the fourth time in the franchise and began a relationship with Canadian contestant and firefighter Kevin Wendt while on the show.
The two continued to date post-filming, sharing photos of their relationship on social media as well. Iaconetti and Wendt announced their split mid-March 2018, which means the relationship lasted a few months since shooting in December 2017, when they won the Olympic-themed love reality show.
Some people are wondering about whether or not Iaconetti cheated on her Canadian ex-boyfriend this winter, based on the timeline of Iaconetti and Haibon's new relationship. Haibon and Iaconetti addressed this head-on in a 44-minute YouTube video in which they talk about going back-and-forth from friends to romantic partners.
Haibon and Iaconetti talk about their road to finding each other, from their first stint on Bachelor in Paradise to present day. Haibon describes telling Iaconetti his feelings for her before leaving a group trip in St. Lucia they went on with friends while she was still with Wendt.
"Here was a moment where I knew what I should do," Haibon said in the video. "I knew exactly what I had to do, and I was scared to do it. But I was like, 'I should kiss her.'"
Former Bachelor franchise contestants, and married couple, Tanner and Jade Tolbert, also on the St. Lucia trip, encouraged Haibon to kiss Iaconetti at the airport.
"I just went for it, and then we kissed," Haibon said. "It was a really good kiss."
"It was really, really good," Iaconetti said in the clip. "Bottom line is, I left and thought, 'OK, well that's everything I've ever wanted, but I'm definitely going to continue dating this other guy [Wendt] because I do like him. He has pursued me, he has really liked me, he's been all in the entire time."
Then the couple agrees not to talk about the "nitty gritty" of January and February – when Iaconetti and Wendt were still together, at least publicly, and the whole world (including Haibon and Iaconetti) watched her love story develop with Wendt.
"I just knew in my heart at that point, it wasn't right with Kevin," Iaconetti said. "I did not cheat on Kevin, I ended the relationship because it had run its course. And then, Jared was still there."
At this point, people watching the clip may be confused: the two just detailed a kiss they shared in the airport while Iaconetti was still dating Wendt, but then immediately after, Iaconetti said she did not cheat on Wendt.
It's possible she disregards the kiss as cheating because Haibon kissed her. It's possible she doesn't count one kiss as cheating. It's not quite clear, but if Haibon and Iaconetti said there was no cheating involved, then there was no cheating involved. Besides, after Iaconetti and Haibon's three-year flirtatious friendship, as shown in two Bachelor in Paradise seasons, a Bachelor wedding special, and too many Instagrams to count, everyone was pretty much expecting these two to get together eventually, anyway.
Regardless, Wendt seems to be just fine. In response to Iaconetti's tweet about her and Haibon's relationship, Wendt tweeted, "Happy for you both ash 💙 he's a lucky man."
Somehow, I think the hot famous Canadian firefighter will be just fine – maybe the next season of Bachelor in Paradise is calling his name.