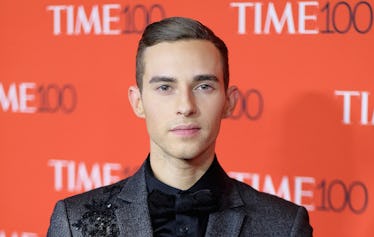 Adam Rippon Had Something Better To Do Than Visit The White House, & You Can Help Him Out
Dimitrios Kambouris/Getty Images Entertainment/Getty Images
On Friday, April 27, competitors from this year's Winter Olympic and Paralympic Games were invited to visit the White House. But the celebratory visit is missing many of the biggest faces from PyeongChang, including Adam Rippon, who did not visit the White House. This boycott from the figure skater was not entirely unexpected, as he has been critical of the Donald Trump administration since becoming a household name. But Rippon's boycott didn't stop at just not attending the event. Instead, he took a simple action and urged others to do the same.
"Olympians from the 2018 Games have been invited to go to the White House today. I will not be going. I will not stand with people who discriminate against those that they perceive as different. In lieu of going to DC, I have donated to a few of my favorite causes," Rippon tweeted on Friday morning, along with a red heart emoji.
In a series of tweets, Rippon went on to list the charities he had apparently donated to and asked his followers to donate to. Those charities included GLAAD, which supports the LGBTQ+ community, Planned Parenthood, and the Red Cross ("to help with the work they do to provide disaster relief," he wrote).
"If you want to join me and you're able to give a little, go for it!" Rippon tweeted in conclusion on Friday. "I think when we're able to help each other out and do what we can to lift each other up, that's when we're truly making America great."
Since becoming the first openly gay American to compete in the Olympics (skier Gus Kenworthy also competed as an out athlete at PyeongChang), Rippon has been supporting LGBTQ+ causes. In March, GLAAD announced that Rippon joined with them to launch a fundraising campaign for the organization's work for LGBTQ+ youth. As of Friday, Rippon's campaign has raised over $34,000 of the $150,000 target.
Rippon is far from the only big name to skip out on the White House's celebration of the Winter Olympics. Kenworthy, who formed a close friendship with Rippon over the course of the February games, had long planned to boycott the visit. "I have no interest in going. That's a super small form of protest, but I didn't vote for this administration. I am not standing by any of the policies that they're enforcing and things that they're doing," Kenworthy told USA Today last September.
"Today is this year's visit and USOC spokesperson says he's never seen so many athletes turn down their invites. The resistance is real," the skier tweeted on Thursday (the Team USA Awards were hosted, with Ivanka Trump in attendance, on Thursday evening). Elite Daily reached out to the U.S. Olympic Committee (USOC) for comment on Kenworthy's tweet, but did not hear back at time of publication.
Other Olympians skipping the White House visit either to counter the Trump administration or for scheduling issues, according to USA Today, include Lindsey Vonn, Chloe Kim, Shaun White, Mirai Nagasu, Jessie Diggins, and flag bearer Erin Hamlin. Per The Washington Post, White and Kim have a wedding to attend, while Nagasu is filming Dancing with the Stars. Hamlin, according to USA Today, is visiting the Johns Hopkins Children's Center, while Diggins spent Wednesday at D.C. briefing Congress about climate change as part of the Protect Our Winters Alliance.
Like Rippon and Kenworthy, Vonn has been an outspoken critic of the administration. She had said in December that she would not visit the Trump White House, adding that, "I want to represent our country well, and I don't think there are a lot of people currently in our government that do that."
Kenworthy and Rippon have been critical of the administration's treatment of the LGBTQ+ community, and especially of Vice President Mike Pence. Pence has long been an adversary of gay rights, while the Trump administration has been attempting to strip trans rights, such as by instituting a ban on transgender people serving in the military and by taking away protections on discrimination and for trans students.
Speaking of the Trump administration in January, Rippon said, "I think it's really important that we stand up for what we believe in, and we speak out against things that we think are wrong and unjust."