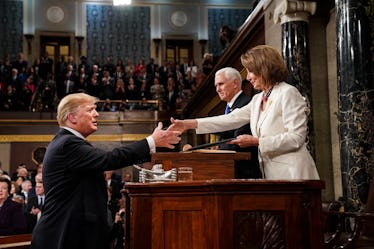 The Second Shutdown Negotiations Might Have A New Sticking Point, So Uh Oh
Pool/Getty Images News/Getty Images
Another day, another drama. At this point, it's up in the air whether the United States will face its second government shutdown if Congress and President Donald Trump don't make a spending budget soon, but it's starting to look likely. How so? Well, Democrats' demand on border security apparently includes a new addition, which isn't making Trump happy.
According to The Washington Post, Democrats want to cap the number of beds available at Immigration and Customs Enforcement's (ICE) immigration detention centers available for immigrants detained within the United States to 16,500. The cap would ostensibly require ICE to concentrate internal effort on dangerous immigrants and save those beds for them. Currently, ICE has space for a total 40,520 beds to detain immigrants, including those found both at the border and within the interior United States, which Democrats want lowered to 35,520, per USA Today. Republicans, on the other hand, have opposed a cap for immigrants convicted of crimes, especially since Trump has referred to illegal immigrants as "violent felons" in the past.
On Monday, Feb. 11, Trump took to Twitter to call out Democrats for apparently adding in new demands during meeting concerning funding for border security. "The Democrats do not want us to detain, or send back, criminal aliens!" he wrote. "This is a brand new demand. Crazy!" Elite Daily reached out to a spokesperson for Democratic Speaker of the House Nancy Pelosi for comment on the demand and the president's tweet, but did not hear back in time for publication.
This current standoff not only increases tensions between Democrats and Republicans, but it could mean serious bad news for all Americans. On Friday, Feb. 15, the United States could face yet another government shutdown if Congress doesn't secure agree on a solid and official spending budget for the fiscal year. So, the fact that Trump is still facing off with Democrats over a few issues isn't a good sign. Plus, the nearly $6 billion border wall that Trump has fought for and Congress has denied still looms in the air. So, there could be two things working for this shutdown.
Over the past few months, Trump has regularly called out Democrats for their stance on border security. Over the weekend, Trump posted a series of tweets calling Democrats out for this issue, and proceeded to claim that the party wants a cap on "convicted, violent felons" being detained.
Trump has frequently suggested that immigrants are violent and dangerous. On Tuesday, Jan. 8, Trump addressed the subject of illegal immigration during a televised presidential address that aired nationwide. The point behind Trump's address was to discuss the "humanitarian and national security crisis" apparently occurring at our southern border in Texas, and Trump made an argument for his border wall by claiming that immigrants are dangerous individuals, and attempted to prove this claim by citing deaths of Americans allegedly due to illegal immigrants. In addition, Trump pointed out numerous State of the Union attendees on Tuesday, Feb. 5 who had allegedly been harmed by illegal immigrants in the past, such as the family of Gerald and Sharon David, who were allegedly killed in their home by an illegal immigrant in January 2019. In fact, studies have shown that that immigrants, whether they're in the United States legally or not, actually have lower crime rates compared to native-born Americans, particularly in violent crimes. The White House did not immediately respond to Elite Daily's request for comment about Trump's claims and characterization of immigrants.
With all that being said, Trump and Congress have less than a week to strike up a new compromise in hopes that the government doesn't shut down once again. While Pelosi might not be too worried about that happening, I, personally, am.
Here we go, everyone. It's time to see what this week holds in store for us, and the United States of America.