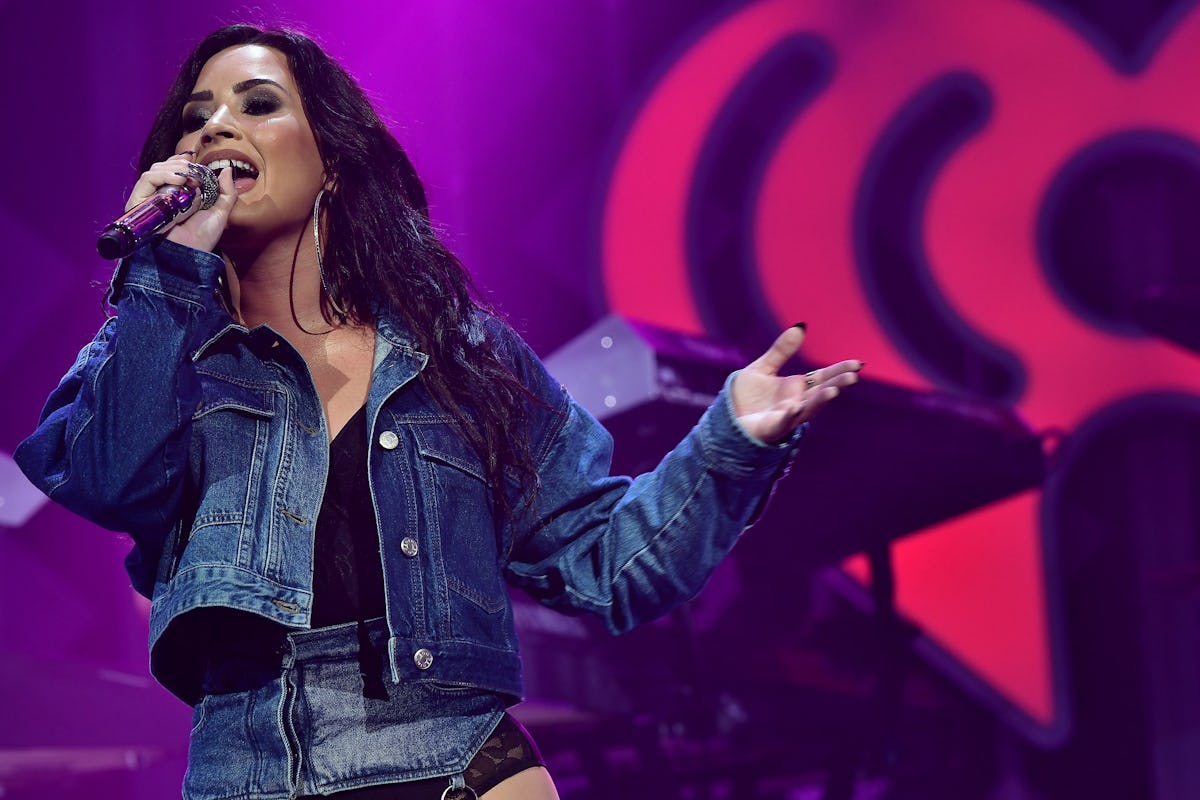 Demi Lovato Will Offer Free Therapy Sessions On Her 2018 Tour & We're Already Sobbing
Gustavo Caballero/Getty Images Entertainment/Getty Images
As if we needed more proof that Demi Lovato is an angel bestowed upon this Earth, the "Sorry Not Sorry" singer revealed some pretty big plans for her upcoming "Tell Me You Love Me" tour, and I'm in awe. Not only will fans be shook by her jaw-dropping vocals and raw lyrics, Demi Lovato will offer free therapy sessions on her 2018 tour, which will be open to ticket-holders struggling with mental health and wellness. Treatment center and wellness program CAST Centers will join the starlet in all 20 cities on the tour, conducting intimate group sessions before each concert as a form of therapy. Cue the mountains of Kleenex, because I'm weeping at how beautiful this is.
Of course, this isn't the first time Lovato has married mental health and her music. The 25-year-old singer joined Nick Jonas on the Future Now Tour back in 2016, and according to Teen Vogue, the performers offered 45-minute seminars, also hosted by CAST Centers, for small groups of pre-selected fans to listen to guest speakers and hash out intense topics like mental health, substance abuse, and simply the idea of getting through life one day at a time.
It might come off as a seemingly dark activity to partake in, especially before something as energetic as a concert, but don't forget that music has been an important source of therapy for Lovato over the years. Personally, I think the combination is pretty damn brilliant.
Naturally, Twitter is all about Lovato continuing to show her support for fans struggling with mental illness.
Ticket-holders can sign up for a free CAST on Tour session before the concert to talk about all things health and wellness.
Lovato made the announcement on Wednesday, Jan. 24 during an interview with Robin Roberts on Good Morning America. The "Confident" singer was joined by her business partner, personal development coach, and founder and CEO of CAST, Mike Bayer, to lay out the details of this incredibly inspiring initiative that they hope will encourage others to seek the help they need. Describing these group sessions as a kind of "therapy" before each concert begins, participants will have the opportunity to listen to speakers "from all over," including other celebrities, influencers, and Lovato herself.
It sounds like a unique experience that I can only imagine fans will never forget. Unfortunately, it's exclusive only to concertgoers, but if you were looking for incentive to splurge on a ticket, I think it's safe to say the full package is worth more than the monetary value of admission.
Lovato and Bayer's mission is, of course, to further advocate for mental health treatment, but according to Bayer, the goal here is to also start the conversation and make mental health more mainstream. "For Demi and I, we believe mental health should be mainstream and just as cool as going to the gym," he told GMA.
By offering fans the chance to participate in these CAST on Tour sessions, Lovato continues to be the role model we never knew we needed.
What makes Lovato such an incredible role model for young people — scratch that, everyone — is that she doesn't mask her insecurities like a lot of other Hollywood stars.
Ever since the actress-turned-pop-sensation checked into rehab at the young age of just 18 years old, she never played the role of a stereotypical child star gone sour. She became transparent, opening up to her fans to show that celebrities really are just like us. They are people with jobs, families, legitimate feelings, and, above all, flaws, and Lovato doesn't shy away from that. She owns it which, I think, is what fans appreciate most.
During their interview, GMA anchor Robin Roberts pointed out that Lovato isn't the type of celebrity to just "lend her name," and that she's very involved with brand collaborations, especially when it comes to opportunities that allow her to use her voice in favor of mental health awareness.
Ending off their conversation on a breathtakingly inspirational note, Roberts asked why Lovato continues to set up these kinds of resources for her fans when, in all honesty, she really doesn't have to. Unsurprisingly, Lovato's answer tugged at the audience's heartstrings:
I've actually met people who got to CAST because they went to CAST on Tour and they realized that they needed to get sober or they needed to better themselves in some other way. It's about giving back. I think it's important that I continue to do this while I'm on tour.
I'm not crying, you're crying.