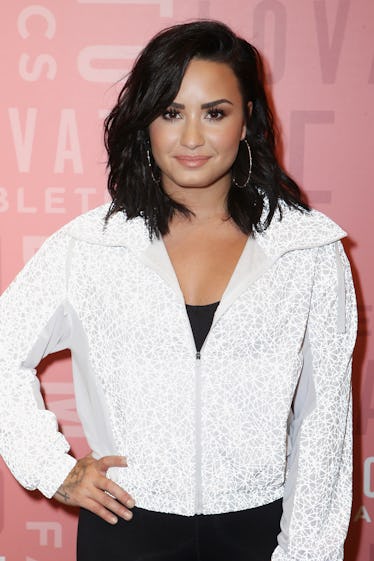 Demi Lovato Got An Inspiring Tattoo Following Her Relapse Revelation & I'm Emotional
Ari Perilstein/Getty Images Entertainment/Getty Images
It's no secret that Demi Lovato has struggled with her sobriety. On Thursday, June 21, Lovato revealed via music that she had relapsed after six years of being sober. The 25-year-old singer released a new single called "Sober" to apologize to her family, fans, and herself for falling short of the world's expectations. And now, after revealing her truth, she's gotten some new ink. Demi Lovato's "Free" tattoo might have a connection to her struggle with sobriety.
The tattoo, which is on her right pinky finger, was actually a group endeavor. After Lovato revealed her relapse, the singer's manager, assistant, and security team also got the same tattoo.
Lovato revealed her new tattoo via her Instagram story on Monday, June 25. In the post, her entire team's "Free" tattoos are visible. And she captioned the picwith, "The team that tats together stays together."
Sweet!
Some people in Lovato's corner posted photos of their tattoos on Instagram. Lovato's hair stylist, César DeLeon Ramirez, shared a photo as well as a really sweet caption. Here's what he had to say:
Everyone deserves to speak their truth! Love is accepting someone for who they are and for who they are not! #free #Spirits
Beautiful! And here's the pic of his tattoo:
Here's another pic from someone else on Lovato's team:
As I mentioned before, Lovato took a huge risk and told the world about her relapse in song. And her new tattoo could be an homage to that experience. Now that she's free of her secret relapse, she can live freely and without any burden bearing down on her shoulders.
In her new single "Sober", Lovato delves into her struggle with this secret:
Mama, I'm so sorry I'm not sober anymore / And daddy please forgive me for the drinks spilled on the floor / And I'm sorry for the fans I lost who watched me fall again / I wanna be a role model, but I'm only human
What a powerful message. It's well-known that Lovato has struggled with addiction as well as mental illness over the years. According to People, the singer entered a treatment facility back in 2011 where she was treated for a myriad of things, including bipolar disorder and addiction. Lovato relapsed shortly after and then stayed in a sober living facility for a year.
At the very end of "Sober", Lovato apologizes for reverting back to her old ways:
I'm sorry that I'm here again / I promise I'll get help / It wasn't my intention / I'm sorry to myself
Lovato has often been vocal about her struggles. After she took the stage to perform "Sober" for the first time in Lisbon, Portugal, she posted a video of the performance on Twitter with the following message:
Tonight I took the stage, a new person with a new life. Thank you to everyone who has supported me throughout this journey. It will never be forgotten.
During a different performance in Spain, Lovato shed some light on how she's feeling about the whole situation:
Life is really, really funny sometimes. It can be difficult, but, for the most part, if you do what makes you happy and set yourself free, you'll live an amazing life.
All in all, it seems like Lovato is looking at her relapse revelation as a turning point. She's starting over and starting fresh. She's free, essentially, and can take this opportunity to mold herself anew. And that's wonderful.
Hopefully, Lovato can make the strides she's hoping to make and stay as healthy as possible. The world really is rooting for her!