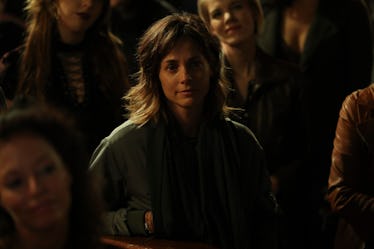 Fans Are Freaking Out Over This Week's 'A Million Little Things' Bombshell
ABC/Jack Rowand
This post contains spoilers for the Oct. 24 episode of A Million Little Things. The first season of A Million Little Things hasn't shied away from tackling its characters' intense ups and downs, and this week's episode tackled what's supposed to be one of life's greatest blessings in a mixed way. The episode's previews teased the guys finding a used pregnancy test, but its owner wasn't who the men had in mind. In case you thought that the gang's lives couldn't get busier, Delilah's pregnancy on A Million Little Things just made everyone's mourning of Jon a tad more complicated.
The episode "The Game of Life" showed Rome (Romany Malco) visiting a new therapist, who advised him to explore his family's history with depression and accept that he had a right to be happy. Fresh off quitting his job and seemingly agreeing with Regina (Christina Moses) that they didn't want kids, he was at a challenging crossroads. Leaving his job hadn't improved his mood like Rome expected it to, and he still hadn't told Regina the complete truth about his mental state. So when Gary found a positive pregnancy test in the couple's bathroom trash can, Regina appearing pregnant understandably freaked out Rome.
Eddie (David Giuntoli) then delivered a pep talk saying that no matter how bad his life currently was (ICYMI, he and Katherine decided to separate), he didn't regret anything because he had his son. As Delilah (Stephanie Szostak) cut him out after their affair became public and he had no choice but to move in with Gary, Eddie's relationship with little Theo is totally the only highlight for him right now.
The heart-to-heart bro chat cooled down Rome's anxiety, even persuading him to start taking his antidepressants and work on bettering himself. But when he told Regina he knew her secret, Regina spilled that the test actually belonged to Delilah. The episode ended with Sophie serenading Delilah with "Rainbow Connection," which Jon sang to Sophie in utero, and Delilah cradling her barely there bump à la Meghan Markle. Unlike the expecting Duchess of Sussex, Delilah clearly hadn't shared her secret with the world (or, you know, the entire friend group) yet.
Rome finding out about the pregnancy is certainly the calm before the storm, as secrets don't seem to stay under wraps for long among these characters. The synopsis for Oct. 31's episode, "Unexpected," hints that Delilah will come to a decision about her pregnancy, but whether that involves telling her kids or the other adults is unclear. After all, Delilah just had a pretty serious conversation about the existence of heaven and hell with Sophie, so perhaps she can only handle an intense mother-daughter confession once in a while. Plus, would telling Gary and Rome so soon after their unsavory reactions to Eddie and Delilah's affair really be the wisest move?
Most importantly, who's the father? While all likelihood points to Eddie, who Delilah slept with the day Jon died, fans shouldn't entirely rule out Jon. We know that the past two years of their marriage were a little rough, but there's definitely a slim possibility of the baby being Jon's. Whatever this pregnancy may reveal, it's clear that the surprise bundle has brought forth many bittersweet feelings for Delilah. We'll have to wait and see if she shares her big news with the others soon.
Season 1 of A Million Little Things continues on Wednesday, Oct. 31, at 10 p.m. ET on ABC.
If you or someone you know are experiencing suicidal thoughts, call 911, or call the National Suicide Prevention Hotline at 1-800-273-8255.