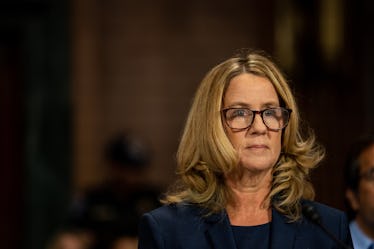 Deborah Ramirez's Message For Christine Blasey Ford Before Her Testimony Is So Touching
Pool/Getty Images News/Getty Images
California professor Dr. Christine Blasey Ford was on Capitol Hill to testify before the Senate Judiciary Committee on Thursday, Sept. 27 regarding her allegations that she was sexually assaulted by Supreme Court nominee Brett Kavanaugh when the two were in high school, which he has denied. Elite Daily reached out to representatives of Kavanaugh about Ford's claims but did not hear back. But plenty of support was on Ford's side as she went into Thursday's hearings, including Deborah Ramirez' message for Christine Blasey Ford, in what was a touching note from one alleged survivor to another.
Ramirez came forward via a New Yorker article on Sept. 23 alleging that Kavanaugh had exposed himself to her when they were both in college at Yale. Kavanaugh has denied the allegations by Ramirez. Elite Daily reached out to Kavanaugh's team and the White House for comment on the allegations but did not hear back.
John Clune, the attorney representing Ramirez, shared a message that apparently came from his client on Twitter Wednesday, reading:
From Debbie Ramirez: "Thinking of you today, Christine. They want us to feel alone and isolated but I'm there wrapping my arms around you and I hope you feel the people of this nation wrapping their arms around all of us. Holding you up in spirit."
Ford, speaking to the committee Thursday, began her testimony by saying she was "terrified" and was only coming forward publicly to testify out of a sense of civic duty. And along with Ramirez, plenty of people on social media sent out messages of support for Ford, and the hashtag #IBelieveChristineBlaseyFord quickly began trending.
"What an incredibly brave woman. And for her to now be receiving death threats from the worst of humanity shows us just how truly brave she is," tweeted TV producer Paul Feig.
Many others also voiced their support online.
Additionally, a note was also left Wednesday night on the table where Dr. Ford was to testify the following morning, wishing her good luck, but it was not clear who wrote the note.
Additionally, a group of 1,600 men took out a full-page ad in the Wednesday, Sept. 26 edition of the The New York Times, fully voicing their support for not only Ford, but for Anita Hill, the University of Oklahoma law professor who testified before the same committee in 1991 accusing then-Supreme Court nominee Clarence Thomas of sexual harassment. At the time, Thomas denied the claims, calling them a "high tech lynching." Representatives of Thomas did not reply to Elite Daily's request for additional comment. Wednesday's ad is a nod to a similar ad taken out in the Times at the time of Hill's hearing, that one signed by 1,600 women.
Per The Guardian, Wednesday's ad reads, "As men who are allies in the fight to end violence and harassment against women and girls, we write to express our full support of Dr Christine Blasey Ford … we believe survivors and we call on all men of good will to stand with us." While the Hill hearing involved a full FBI investigation into her allegations and called 22 witnesses total, Ford's accusations have not been met with the same treatment.
While plenty of Ford's supporters, Ramirez included, are making it clear that they stand with the professor testifying Thursday, Ford — and Ramirez — don't stand alone as accusers, either.
Also on Sept. 26, three more allegations came out against Kavanaugh. A third woman, Julie Swetnick, accused Kavanaugh of allegedly drugging girls in order to allegedly sexually assault them. (Swetnick is represented by Michael Avenatti, who is also the attorney for Stormy Daniels.) Elite Daily reached out to the White House for comment on this allegation but did not hear back. Kavanaugh denied the allegations, saying "This is ridiculous and from the Twilight Zone."
The same day, two other allegations of sexual misconduct were made public after Kavanaugh was asked about them Tuesday in a call by investigators for the SJC. One concerned a 1998 incident in which he allegedly violently shoved a woman he was dating, while another accused him of allegedly sexually assaulting a woman on a boat in 1985; both allegations were anonymously presented to Sens. Cory Gardner and Sheldon Whitehouse, respectively. Elite Daily reached out to the White House for comment on these additional accusations but did not hear back; Kavanaugh has denied both additional allegations.
In the hearing on Sept. 27, several senators made a point to thank Ford for coming forward with her story. And while it's not clear what will come out of her testimony, it's clear that many others are grateful to her as well.