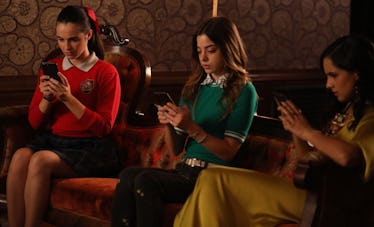 This Murder Mystery Show Will Be Your New Obsession & You Don't Need A TV To Watch It
Jordin Althaus for Snap/Indigo
Solving a murder mystery is hard enough, but having to solve your own is another whole level of warped. That is what the newly murdered Charlotte Feldman is tasked to do in the new supernatural drama Dead Girls Detective Agency, which just debuted its first season and is already about to return for Season 2. Oh, and if you are wondering why you have not seen this dark teen drama on your TV while you were channel surfing, it's because you need to put down your remote and pick up your phone to watch it. Dead Girls Detective Agency is the Snapchat show you need to be watching, especially if you are obsessed with murder mysteries and teen dramas.
The first season of Dead Girls Detective Agency premiered last month on Oct. 22, and all eight episodes are available to binge on Snapchat now. And less than a month after the debut season dropped, the show is back for its second season starting on Monday, Nov. 19. The series focuses on the mysterious death of Charlotte Feldman (Gia Mantegna), who finds herself trapped in limbo as a ghost until she can solve the mystery of her own murder. Thankfully, Charlotte gets some help from fellow trapped souls Nancy Graves (Vanessa Marano) and Lorna Reddy (Aparna Brielle), who make up the Dead Girls Detective Agency.
If you have not started the series yet, you can check out the Season 1 trailer for Dead Girls Detective Agency on Snap Original's website, and then check out the newly released trailer for the upcoming Season 2 below:
While Season 1 saw Charlotte, Nancy, and Lorna scratching the surface of Charlotte's train-track murder, the trailer for Season 2 includes a ton of new twists that could complicate the mystery even more. The brief teaser hints that Charlotte may have been keeping up a double life as someone named Olivia Andrews, that she was obsessed with a bartender named Taylor, and that she may have been sleeping with a creepy guy named Calum. Ummm, just how many secrets has Charlotte been keeping!?
Snapchat shared a statement on the breakout success of its first season of Dead Girls Detective Agency, and said that new episodes of Season 2 will be released each day following its premiere:
Happy to say that the show has proven to be very popular - 10 million unique viewers have watched season one of The Dead Girls Detective Agency. Season two premieres on Nov. 19 with new episodes being released daily.
The new Snapchat show is based on a series of young adult novels by Suzy Cox: 2012's The Dead Girls Detective Agency and 2014's Dead Girls Walking. The show is only available to stream on Snapchat, and you can find it either by searching on the app's Discover page or by snapping the QR code below:
The first season of Dead Girls Detective Agency is available to stream in full on Snapchat now, and look out for Season 2 to premiere on Monday, Nov. 19, with new episodes being released daily after that.