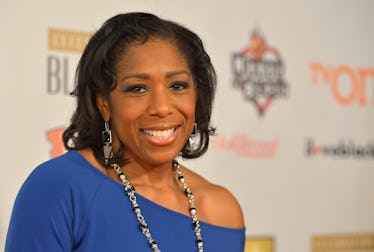 The 'Veronica Mars' Reboot Just Cast Neptune's New Chief Of Police
Charley Gallay/Getty Images Entertainment/Getty Images
Ever since Kristen Bell confirmed Veronica Mars would be heading to Hulu for an eight-episode series revival, fans have been wondering how the series has changed since it went off the air in 2007. For those who have seen the movie and read the books, there's at least some idea of what Mars was up to in the intervening years and how she came back to Neptune. But how has the town changed? Turns out there's a new police chief, as TVLine revealed Dawnn Lewis has been cast in the Veronica Mars reboot.
Lewis was last seen as Mama Leone in iZombie Season 4, a show co-written and produced by Veronica Mars creator Rob Thomas. She will grace Veronica Mars and the town of Neptune with her presence as Marcia Langdon, the chief of police.
With Neptune having now incorporated, the town finally has its own official woman in charge instead of just a County Sheriff like Veronica's dad, Keith Mars. Langdon's character is described as "pivotal." Though the role of Marcia Langdon will be a brand new face to TV and movie watchers, she's a character who has a little bit of history with Mars already, having been introduced in the Veronica Mars novel, Mr. Kiss and Tell.
According to TVLine, which broke the news:
Veronica Mars boss Rob Thomas has tapped a member of his iZombie family to lay down the law in Neptune. TVLine has learned exclusively that Dawnn Lewis — who recurred on iZombie last season as Mama Leone — has joined Hulu's eight-episode revival in the pivotal recurring role of Marcia Langdon, the new police chief (since Neptune has incorporated).
Though the plot of the upcoming season has some fans convinced this new series will be like the story told in the novel The Thousand Dollar Tan Line, Thomas has said this is not the case, and the show will be reverting back to "its hardcore So-Cal noir roots."
[There will be] one big case [with] eight episodes to tell the story. This is a detective show.
Though Langdon appeared in the second novel, she did not turn up in The Thousand Dollar Tan Line, suggesting this is a new story, set after Mr. Kiss and Tell.
Spring breakers are getting murdered in Neptune, thereby decimating the seaside town's lifeblood tourist industry. After Mars Investigations is hired by the parents of one of the victims to find their son's killer, Veronica is drawn into an epic eight-episode mystery that pits the enclave's wealthy elites, who would rather put an end to the month-long bacchanalia, against a working class that relies on the cash influx that comes with being the West Coast's answer to Daytona Beach.
Lewis joins an already stacked cast including Bell, as well as Enrico Colantoni, as Veronica's father Keith, and Jason Dohring as love interest Logan. Plus there's Percy Daggs III who plays Wallace Fennel, Francis Capra as Weevil, and Ryan Hansen as Dick Casablancas with David Starzyk as Richard Casablancas.
Veronica Mars started production for the upcoming series at the beginning of this month. The show's limited eight-episode run is expected to debut on Hulu in the summer of 2019.