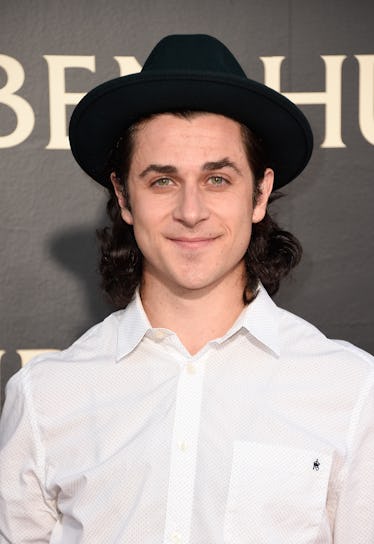 Former Disney Star David Henrie Was Reportedly Arrested For The Most Shocking Reason
Frazer Harrison/Getty Images Entertainment/Getty Images
David Henrie is reportedly in some trouble for something he was carrying at the airport, and it wasn't hisWizards of Waverly Place wand. According to a report by TMZ, their sources claim David Henrie was arrested for allegedly carrying a loaded gun at Los Angeles International Airport (LAX). Elite Daily reached out to Henrie's team for confirmation on the report, but did not hear back by the time of publication.
According to TMZ, the incident went down on the morning of Monday, Sept. 10. Henrie was reportedly making his way through a TSA screening at the airport when agents allegedly discovered the weapon — an M&P Shield 9mm pistol that was allegedly loaded, according to the report. Henrie was reportedly detained immediately and taken to a nearby police station.
Just days ago, Henrie took to Instagram to share the happy news that he's going to be a dad to a little girl pretty soon. In a video posted on the social media site on Wednesday, Sept. 5, Henrie and his wife, Maria Cahill, are seen standing under a massive black balloon when Henrie pops it, causing a shower of pink glitter to cascade over Cahill and everyone celebrates the big reveal.
His caption on the post read:
ITS A GIRL ITS A GIRL ITS A GIRL. Im a Poppa!!!!!!! Im so overwhelmed with joy I had to share this with you guys. I'm already singing "I Loved Her First". I can't wait to sit her down on a couch and tell her a 9 season story of How I Met Your Mother 😂😂😂 #baby#itsagirl#poppa#dad
Henrie rose to fame on the Disney Channel starring alongside Selena Gomez as Justin Russo on the hit series Wizards of Waverly Place from 2007 to 2012. In the show, he was Alex Russo's high-strung older brother whose head was constantly in the books.
It goes without saying that fans are at a loss for how to react to this whole situation:
The cast of Wizards of Waverly Place remains good friends to this day. In fact, Henrie reunited with Gomez just two months ago on July 5, 2018 when they, fittingly, went to Disneyland in California together.
Gomez was also on hand at Henrie's wedding on April 17, 2017. She was joined by the whole cast of their show, including their onscreen brother, Jake T. Austin; Gomez's onscreen bestie, Jennifer Stone; and their Wizards parents, Maria Canals-Barrera and David DeLuise. Gomez was totally in her feelings about reuniting with her magical TV family for such an amazing occasion and gushed about the wedding on Instagram under a group pic with the cast, writing:
Very much in my feelings about my big brother getting married. Even though we for sure knew it would be him first. May God bless you and your beautiful wife Henrie!
Henrie has yet to address his reported arrest personally, but, hopefully, his Wizards castmates will be in touch for support throughout this whole ordeal.