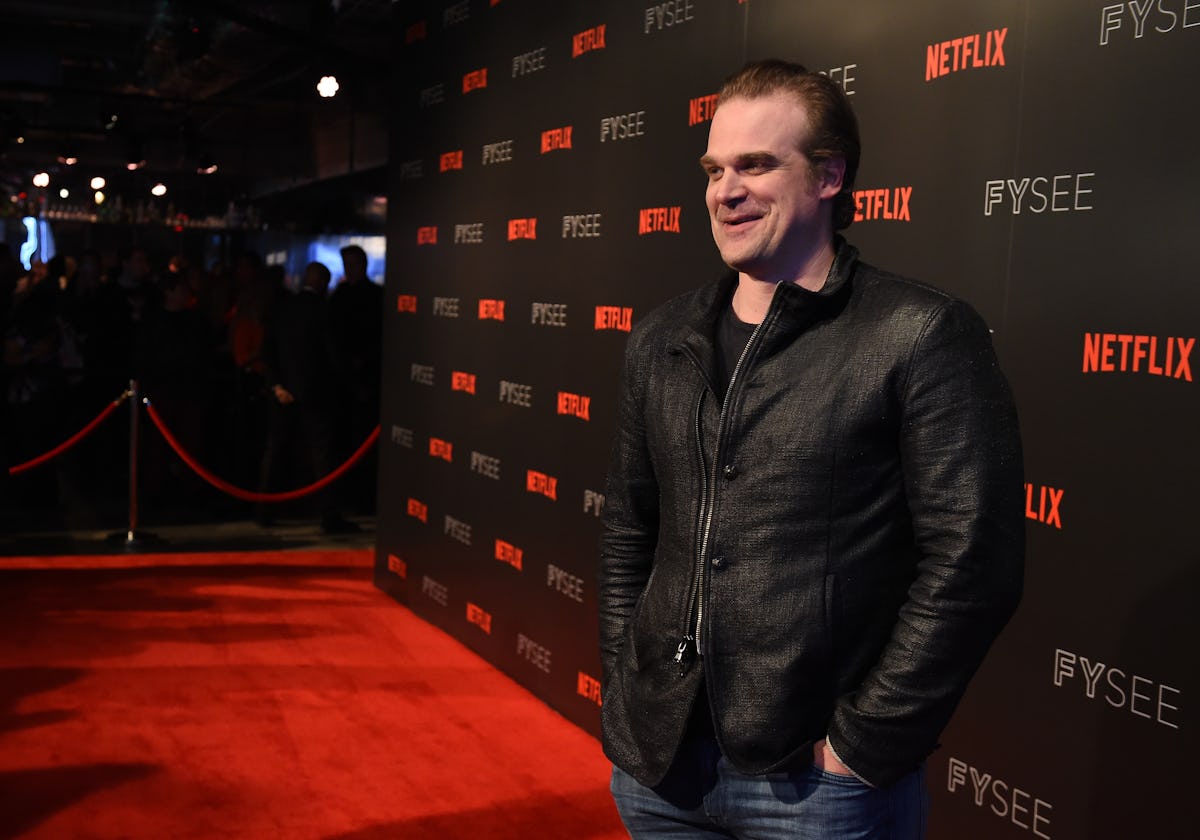 Hopper From 'Stranger Things' Was Snubbed At The Golden Globes & People Are Pissed
Kevin Winter/Getty Images Entertainment/Getty Images
This year's 2018 Golden Globe Awards were highly anticipated for a number of reasons. Not only was this the first time late-night talk show host Seth Meyers acted as host for the evening, there were also a handful of surprising nominations that made for an interesting and exciting night of award announcements. One of those nominations was David Harbour, who you probably know as Jim Hopper, the scruffy police chief from Netflix's Stranger Things. Well, Harbour did not end up winning a Golden Globe tonight for his role as Hopper, but at least he had a fair shot.
Harbour was up against quite the hefty list of fellow actors. His biggest competition leading up to the awards was Alexander Skarsgard (also a first-time Golden Globe nominee), who was nominated for his role as the abusive husband Perry Wright on HBO's Big Little Lies. Skarsgard won the Emmy in this category last year, and was expected to take the Golden Globe for his nomination as well.
But the race between Skarsgard and Harbour was actually a pretty close one, and had Hopper fans hoping for an upset. According to awards prediction site Gold Derby, Harbour's odds of winning the race were 8:1, and Skarsgard leading him up ahead with a 2:9 prediction to win. So that being said, it was certainly exciting for die-hard Stranger Things fans in the minutes leading up to the announcement of this year's winner.
And ultimately, it was Skarsgard that came out on top and Harbour failed to pull off an upset victory, as was predicted. Despite his deserving win, serious Stranger Things fans were devastated to heard his name when the Supporting Actor in a TV Series category was announced. People that were rooting for Hopper took to Twitter following the announcement of the category winner.
And the tweets users were posting about Harbour's loss most certainly did not hold back in expressing their disappointment.
This was Harbour's first ever Golden Globe nomination, despite his working in the industry since 1999. To be fair, he only just began his breakout role as Hopper, everybody's favorite cop in Hawkins, Indiana on the hit Netflix show Stranger Things, which first began streaming on in July 2016. His performance was nominated for the Best Supporting Actor category in a series, limited series, or motion picture made for television.
Fans were seriously excited to hear Harbour's name when the Golden Globes nominations were announced back in Dec. 2017. Despite the overwhelming success of both Stranger Things and the sophomore installment of Stranger Things' second season, the Netflix program hasn't gotten the accolades to match its success. The show is also up for a Best Drama Series award, and faces some stiff competition there going against heavy-hitters Game of Thrones, The Handmaid's Tale, and The Crown.
But despite the stiff competition, Harbour managed to come out with a well deserved nomination. Skarsgard was definitely a shoe-in for the win tonight, but it was amazing to see Harbour's incredible work on Stranger Things recognized by the Hollywood Foreign Press. So, congrats are in order for Harbour on his first nomination, as well as congrats to Skarsgard for his first Golden Globe win.
And not all is lost for David Harbour just yet. We have the 2018 Emmy Awards to look forward to, which are set to air on Sept. 17. So who knows what will happen if he winds up with an Emmy nod once the names for the TV awards are announced. For now we'll just have to patiently wait until Emmy season rolls around and keep out fingers crossed for Harbour.