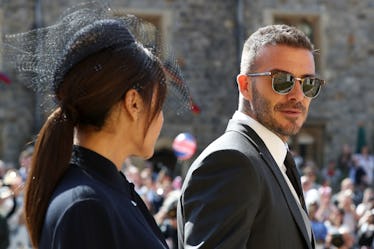 David Beckham's Net Worth Is The Same As His Fashion Mogul Wife's & It's A Lot
WPA Pool/Getty Images Entertainment/Getty Images
It's easy to assume that David Beckham has it all, and that's probably because he does. The now-retired former footballer has led the life, both on and off the field. After successful stints with Manchester United, L.A. Galaxy, Real Madrid, and more than a few impressive World Cup runs, it's obvious Beckham's international celeb status is about more than just his good looks (but also have you seen his face?). The British-born babe wed ex-Spice Girl and longtime fashion designer Victoria Beckham 19 years ago, which is basically a century in Hollywood time, and has raised a brood of genetically-blessed kiddos. So, in the world's most unsurprising news, it turns out the Beckhams are also stupid rich. Shocker. According to claims, David Beckham's net worth alone is hundreds of millions. Meanwhile, I can't even afford a venti at Starbucks.
Celebrity Net Worth reports that the tatted father of four is worth nearly $450 million. But before you pick your jaw up from the floor and sob about your personal finances, double that number. Because that's roughly how much the Beckhams are worth in total. Talk about equal partnership. Victoria's estimated net worth also falls around $450 million.
According to Forbes, the pair's combined annual earnings are $45 million. But their cash roll didn't just appear out of nowhere. Rather, the power couple has seriously worked for their fortune. Celebrity New Worth continues, stating David's 5-year contract with the L.A. Galaxy in 2007 alone made him the highest-paid player in Major League Soccer. His record-breaking salary meant a whopping £748,000 a week. You read that right. PER WEEK, people.
His hunk status has also served him well, having nabbed modeling and sponsorship gigs along the way. Beckham's repped Pepsi, Calvin Klein, Adidas, and more. Post retirement, the former soccer star's hustle hasn't slowed. Since hanging up the cleats in 2013, Beckham has continued to rake in the endorsement deals. In fact, he earned more since his 20-year career came to a close. According to Forbes, Beckham brought in $75 million in 2014, a jump from his previous high of $51 million in 2012.
After departing wildly-popular UK group Spice Girls in 2000, Mrs. Beckham began her fashion brand, appropriately titled Victoria Beckham. Her clothing empire alone has been estimated at £100 million, according to the Telegraph. The woman is a powerhouse all on her own.
As the phrase (sort of) goes: The couple that makes major bank together, stays together. Posh and Becks' nearly two-decade partnership has undeniably been built on hard work — both in their marriage and on the career front. But that doesn't mean the Beckhams' children — Brooklyn, 19; Romeo, 15; Cruz, 13; and Harper, 6 — have the option to take any of it for granted.
Speaking to the Evening Standard in May, Victoria confessed:
It's never been an option not to work hard. They see mummy go to work, they see daddy go to work, and they go to school and they have to work. But at the same time they're happy children. I believe that children should be children, and have fun. I like to push them because I want them to achieve as much as they can, but I don't want to push them so much that it makes them overly stressed. No child wants to do homework. As parents, we've always got to give them a kick up the bum. That's our job. I'm not saying they love doing it — they don't — but it's compulsory.
While I have zero doubt that the Beckhams are living well, they're also generous with their earnings. Following the royal wedding (which, if you've been living under a rock, they attended!!! And looked amazing!!!), the power couple announced they would be donating their outfits to help those affected by the 2017 Manchester attack. Victoria announced the cause via Instagram Thursday, June 7, writing,
To support the incredible work of The We Love Manchester Emergency Fund and the families affected by the Manchester attack last year, @davidbeckham and I have partnered with @omazeworld to give you the chance to own our wedding outfits. Please visit omaze.com/beckham for details. x VB
If David Beckham's doting dad vibes, rock solid marriage, and legendary soccer career weren't enough to have you swooning, his heart (and wallet) of gold just may do the trick. Keep on living, Becks.