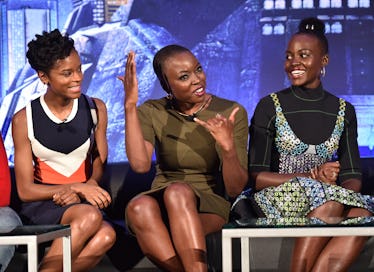 This 'Blank Panther' Star Addressed The All-Female Marvel Movie Rumors & I'm Into It
Alberto E. Rodriguez/Getty Images Entertainment/Getty Images
The highly-anticipated blockbuster extravaganza Avengers: Infinity War is just a few hours away from hitting theaters. On the heels of the release of a major Marvel film, the conversation typically steers to what's in store for the franchise's future. One topic receiving a lot of buzz is the possibility of an all-female Marvel movie featuring the super ladies of the MCU.
Danai Gurira was a standout force in what happens to be the highest-grossing superhero film in the U.S. of all time, this year's mega-popular Black Panther. She's also (woohoo!) a part of the star-studded Infinity War, reprising her role of Okoye. The actress stopped by The Ellen DeGeneres Show on Wednesday, April 25 and chimed in on if a female-centric Marvel movie could happen someday. She revealed:
I think it is a rumor, but I think the cool thing is that it's showing there's this hunger for that type of thing. I know that the awesome Brie Larson is filming Captain Marvel as we speak, so these things are starting to happen, and I think it's really exciting because it shows that yeah, of course, it's time we start seeing the perspective of the story come exclusively from women.
Danai may be throwing that idea out there in the (Marvel Cinematic) universe, but she isn't the first star to champion the concept. Tessa Thompson — aka Thor: Ragnorok's badass booze-swilling Valkyrie — has also expressed interest in banding with her fellow superwomen for a film that puts them front and center. The busy Westworld actress, who is also set to take on the Men in Black spinoff, told IGN in February:
I'm not Marvel so I can't make it happen, but I can tell you that Marvel is hugely collaborative, I think our even our Thor [Ragnarok] movie was basically the product of conversations they'd had with Chris [Hemsworth] and with Mark [Ruffalo] about what they wanted to do next. I think [Marvel boss] Kevin Feige is really excited by the idea, and if you look at what's happened already in Phase 4 with me and [Thompson's character] Valkyrie and our story, and then in Black Panther the women rule supreme.
Wonder Woman more than proved a female comic book character could lucratively headline their own major motion picture, so there's no reason the trend shouldn't continue to grow. As Gurira noted, Brie Larson suited up to portray the lead in Captain Marvel, which is slated for a March 6, 2019 release.
If the all-female Marvel movie ever truly gets off the ground and needs a director, Guardians of the Galaxy's Karen Gillan appears to be up for the challenge. "OK, I'll do it," she remarked to Huffington Post at the Tribeca Film Festival, where she just debuted her first directing credit. "I know all of the Marvel actresses talk about it and we're all for it. I don't know whether it will happen or not, but everybody's really up for it," the woman behind Nebula added.
"Brie Larson was like, 'We should go up to Kevin Feige and tell him to make an all-female Marvel movie,' so we all marched up there in a group, a whole herd of us, and said that to him," Gillan previously told IndieWire back in December of the MCU ladies' pitch. "He was like, 'Yeah, that would be amazing!' but he didn't really commit to it, but he thought it would be a great idea."
Scarlett Johansson, who's been part of the Avengers family for a while now as Black Widow, has also shared her thoughts about amping up female inclusion, both in front and behind the camera. "I've been advocating for some more female energy, just in the cast and crew as a whole, for a better part of a decade. So it's really great to see a more diverse group and certainly great to see that the audiences are embracing and even asking for really strong female super heroines," she said. "They're hungry for those stories, and they also want to see a more diverse group that better represents the population."
Hear that? The people are hungry. And it sounds like the women of Marvel are ready to make this rumor a reality.