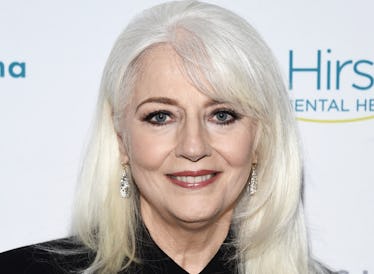 Lady Gaga's Mom Wants You To Prioritize Your Mental Health & Here's How — EXCLUSIVE
Lady Gaga and her mother, Cynthia Germanotta, created the Born This Way Foundation in honor of teens across America — their lives, their struggles, their activism. They wanted the foundation to be a place where teens could feel empowered to speak out and act in support of causes that matter to them, without the fear of being brushed off as naive and immature by adults. Cynthia Germanotta and Lady Gaga's Born This Way Foundation initiative for Mental Health Awareness month is all about prioritizing mental health. Their #BeKindBeTheDifference campaign is focused on getting the youth of America involved in mental health activism and empowering people of all ages to participate in Mental Health First Aid Training. In an exclusive interview with Elite Daily, Cynthia Germanotta opened up about working with her daughter on their philanthropy and why mental health awareness is so important.
They're coming as much to hear her message as they are the music.
Germanotta tells Elite Daily that the Born This Way Foundation (founded in 2012) was inspired by the dialogue that would go down between Lady Gaga and her fans during her concerts. Having been to a Lady Gaga concert myself, I can attest to the fact that her shows leave you feeling inspired and connected. It was this feeling of inspiring her fans that made Gaga want to start the foundation and have it be focused on teens. "As I would watch this dialogue happen with young people," Germanotta says, "[her dialogue] from the stage, I would think young people, or any people, they're coming as much to hear her message as they are the music. They were feeling so empowered and leaving inspired."
She tells Elite Daily that her daughter's experiences of being bullied and feeling isolated in her youth was one of the biggest inspirations for starting the foundation. "The experiences my daughter had growing up as a young woman [was one of the inspirations]," she says, adding, "Some of the struggles she went through personally and us as a family, and her desire to help young people be better equipped to deal with those types of issues made us want to start it." Outside of her family's own circumstances, she says the young people themselves were the biggest inspiration because of "their honesty, their vulnerabilities, their desire to make the world better and deal with their issues."
She continues,
That was the true inspiration. Really, the birth of the foundation happened during my daughter's concerts. As she started traveling the world, she would share her struggles on stage with young people. It caused me a little anxiety at some points, but then I came to realize that she was healing and they were healing and feeling empowered and saying, 'You know, Gaga, if you can do it, maybe we can do it. So how did you do it?'
Basically, Gaga and her mother took the relationship Gaga had with her fans and the experiences they shared during her concerts and made it into a philanthropy benefitting those same fans. Germanotta says, "It was really this very organic, authentic relationship that had already formed and through that, she said, 'You know, mom, we really have to formalize this and do something to help these young people.' And that was the birth of the foundation."
Everyone has a Joanne in their life.
One of the issues the foundation focuses on is mental health. Gaga has been open about her mental health struggles throughout her entire career and is known for not being shy about discussing her pain. On her Joanne World Tour, she ended each show with a performance of the titular song "Joanne," during which she talked about the "intergenerational grief" that was passed down to her through her aunt's death in 1977. (Her aunt, Joanne Germanotta, had lupus and died at the age of 19.) That trauma was passed down to her, and Germanotta tells Elite Daily that one of the most resonate parts of her daughter's tour was when she would say "Everyone has a Joanne in their life." She tells Elite Daily,
That to me was very resounding with people because we do. There's somebody in our life that we know that tragically was affected, and it gets passed down. It's hard to break that cycle, but I think that it can be done.
The Born This Way Foundation has teamed up with the National Council for Behavioral Health and Broadway's Dear Evan Hansen for Mental Health Awareness Month. Their #BeKindBeTheDifference campaign is a contest aimed at getting people to sign up for Mental Health First Aid Training. According to a press release announcing the campaign, Mental Health First Aid Training is a "groundbreaking and evidence-backed program that teaches people how to identify, understand, and respond to signs of mental health and substance use crises."
The contest, according to the press release, entails people taking the pledge to participate in Mental Health First Aid Training. In terms of the grand prize, the press release says,
One lucky pledge taker will receive a pair of tickets to the hit Broadway musical Dear Evan Hansen (a Born This Way Foundation partner), a VIP meet and greet with the cast backstage following the show, and dinner with Cynthia Germanotta, President of Born This Way Foundation which she co-founded with her daughter Lady Gaga. Flight and accommodation costs for the winner and their guest will also be covered.
Germanotta says the training "is not diagnostic in nature," rather it gives its trainees a better understanding of mental health and equips them with the best practices when it comes to helping someone who is struggling with their mental health.
But tackling your mental health, especially when you're a teenager, is an intimidating task to take on, and lots of people don't even know where to start. Germanotta, who says being a working mother made her put her self-care to the wayside for a long time, has advice for those who want to improve their mental health but don't know where to start.
The first thing I would say is talk about it.
To those struggling with their mental health, she says, "First, I acknowledge that and recognize it, that's why we exist. [Mental health] is very intimidating." She continues, "There's still very much a deep stigma surrounding mental health, so the first thing I would say is talk about it. Acknowledge within yourself that something isn't right. Because if we listen to our bodies, they talk to us." Germanotta adds that Born This Way's research about mental health found that for the most part, teens are most comfortable turning to a peer during times of crises, so she encourages people to do so if they're in need of help. "I think that's the greatest first step they can take," she says.
She continues,
The second is advocating for mental health discussions in your schools. I mean, let's start with discussions. Ideally, we'd love it to be integrated into classes, but I think that is important. Third, we are partnered with the Council for Behavioral Health. They can take the pledge and sign up for the Mental Health First Aid Training and be on their way to not only helping themselves, but also helping those around them.
Germanotta, just like her daughter, is open about talking about her own mental health struggles and how she practices self-care in her everyday life. "I have to tell you, I've gotten better at it," she says. Germanotta grew up as a dancer and says it was and still is one of her passions, but when she started her career and later started her family, her passions had to be put to the wayside. She says it took her a long time to realize she needed to focus on self-care so she could effectively help her family. She tells Elite Daily, "Self-care is something you have to constantly remind yourself that if you're not your best self and feeling healthy both mentally as well as physically, you're not going to be your best self for those you're taking care of."
Laughter is very, very therapeutic.
Germanotta reconnected with her love of dance and also does smaller things each day that all contribute to her self-care routine. "I was fortunate to find [dance] again, and that's a great outlet for me," she says, adding, "I also like walking, I like reading and writing, and I also love being with friends and laughing. That may sound trivial, but laughter is very, very therapeutic." Mostly, she wants young people to understand that "life has ebbs and flows" and your mental health isn't always going to be in the best place. "I think the way that we deal with those ebbs and flows in life shape our mental health," she says, adding, "If, for example, there were mental health issues in your family, or a trauma that was in your family, it gets passed down in many ways through stories and other things to young people. And you carry it on." That's that "intergenerational grief" (or intergenerational transmission) Gaga was talking about in her speech about her aunt.
Germanotta continues,
I think understanding that and understanding the ebbs and flows, be kind to yourself, know that something can be temporary and you move on. But most importantly, seek the right level of help for yourself to help you manage those bad days and those good days.
Submissions for the Born This Way #BeKindBeTheDifference contest are being accepted until Thursday, May 31 at midnight.