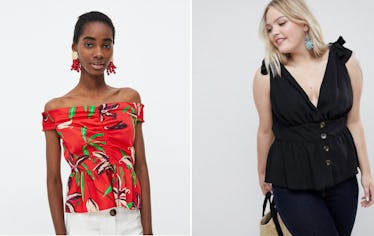 Cute Summer Tops That Cover Your Stomach, Because Some People Are Tired Of Crop Tops
Zara/ ASOS
Who would have thought the day would ever come when people were up in arms about not being able to find full-length summer tops at their favorite clothing retailers? Surely not I! But after one woman expressed her dismay in a Twitter post about the crop top to normal top ratio within her favorite shopping haunts, thousands of other users joined in on her frustration by either liking her post or responding to it. To the Zaras, Urban Outfitters, and Forever 21s of the world — I think you might want to start amping up your social media posts-cum-market research game.
Admittedly, I hadn't really realized the level to which cropped styles had taken over fast fashion. But now that I think about it, it's true that four out of five of the last shirts I bought have hemlines that rest right above my belly button. I am a diehard mom jeans fan (or anything high-waisted, really) so crop tops make sense for my personal style. But if you're into low rise pants, shorts, and skirts, I can see how teeny shirts might not be your thing.
Last week, Twitter user @Love_Hailey77 expressed her shopping frustration on the social media platform and to date, her post has received 3,867 retweets and 10,694 likes.
Clearly, she's not alone in her annoyance, with many users responding to express their feelings on the matter (sometimes hilariously):
Dang! I'm thanking my lucky stars that I am a crop-top loving lady but feeling for those of you who aren't. To (hopefully) easy your summer shopping woes a bit, I found some rad full-length top options that are fashion-forward, trendy, and totally tuckable.
World Tourist
Tommy Bahama 2.0. I love stereotypically tourist shirts, and this floral and palm frond iteration is my dream version. I love its bold color palette and ironic aesthetic.
Gather In
The ultimate elegant top for brunch at a trendy cafe or a trip to a museum. From its off the shoulder neckline to its ruffled and ruched detailing, this top has a lot going on aesthetically and it's all so good.
Be Mine?
Sweetheart necklines are one of my favorite shapes, mostly because they allow ample room for layering delicate charm necklaces. This top features a cute ditzy floral pattern and slightly puffed sleeves.
La Vie En Rose
Teeny tiny roses, cold shoulders, ruffles, and a bow — this shirt is filled with super sweet and flirty details. Pair it with jeans like above for a more casual daytime look, or with a black skirt and strappy heels for a night out.
Boho Dream
One of my favorite shirts of the bunch, I love it for its super billowy sleeves and exaggerated ruffle detailing. It's boho cool at its finest.
Gingham Girl
A peplum I actually like! This easy breezy tank will pair well with just about anything and boasts thick straps and a square neckline. It's also stretchy, meaning it'll be super comfy.
Easy Does It
It's loose and flowy, but still has some tiered ruffle detailing. Effortless cool in a bright shirt!
V. Cool
This shirt is the perfect summer staple piece. It's tieable straps and button-down front elevate it, while its deep-V neckline will ensure you can soak up plenty of vitamin C.
Sheen Queen
Almost better than pj's. This silky shirt boasts a glossy finish and cute floral motif and, with help from its notched collar, is the ultimate versatile piece. It can easily be dressed up or down and is bound to get a compliment or two.