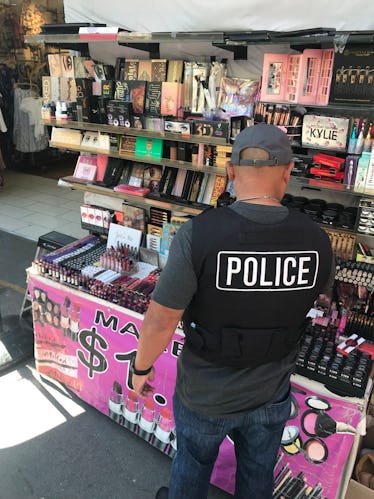 Police Just Seized TONS Of Counterfeit Makeup & What Was In It Will Make You Sick
Courtesy of LAPD Captain Marc Reina
I totally get wanting to search out a good bargain. I've seen enough episodes of TLC's Extreme Couponing to understand that thriftiness can seriously payoff, literally. But beauty deal hunters, beware: Counterfeit makeup in the Los Angeles Fashion District was just seized by the Los Angeles Police Department, and it tested positive for the absolute grossest ingredients you could imagine. In this case, low cost does not mean high reward.
Before I get into the gritty details, let me remind you that this is not the first time that counterfeit makeup has made headlines for less-than-great reasons. In 2016, the internet was set abuzz when reports began circulating that knockoff Kylie Cosmetics Lip Kits were causing people's lips to literally be glued shut. Kylie herself took to her Snapchat account to warn people of counterfeit products. As Time reported, the beauty mogul told fans, "The only place to get my products is kyliecosmetics.com. Everything else is fake. These other websites are making fake product. It might look exactly like mine, but it's not mine. Make sure you guys check the URL because these other websites are selling fake product."
Unfortunately, not all of her fans heeded her warning, because along with counterfeit Urban Decay, NARS, and MAC products, counterfeit Kylie Cosmetics products were among those obtained by police, which the LAPD confirmed on Twitter on Friday, April 13th. According to CNN, the police seized $700,000 worth of fake products on Thursday in a raid, where they hit 21 locations in Santee Alley, a Los Angeles fashion district.
Evidently, the brands whose products were being copied had mentioned the issue to LAPD after customers complained of breaking out in rashes and skin irritations after using what they through were the brands' products, CNN reports. All of the consumers who complained had apparently reported buying the products in the Los Angeles fashion district.
After seizing the products, which, indeed, are incredibly convincing to the eye, the LAPD went on to test them, and what they found within the palettes, lipsticks, and more is the stuff of nightmares: animal waste and high levels of bacteria. Though an initial tweet about the raid stated the counterfeit products contained human feces, LAPD clarified at a press conference that no human feces were found in the fake products — only animal feces. Wait, what?!
"Those feces will just basically somehow get mixed into the product they're manufacturing in their garage or in their bathroom — wherever they're manufacturing this stuff," Detective Rick Ishitani told KABC.
Are you as thoroughly disgusted as I am?! I have never bought a counterfeit product, at least not to my knowledge, but the thought of applying mascara or lipgloss — products that literally rim gateways to my internal organs — filled with animal feces is just about the cringiest thing on earth. But it gets worse. As noted by Refinery29, a 2014 FBI report stated agents have also found aluminum, human carcinogens, and horse urine in the products they've seized in the past. Aluminum and carcinogens?! I might have forgotten 90 percent of what I learned in biology class, but I remember that both of those things can seriously harm your health long term.
After the Los Angeles raid, Kim Kardashian West took to Twitter to warn her own customers of the dangers bootleg products pose, writing, "SO GROSS! Never buy counterfeit products!"
As for how to avoid such products? Simply make sure you're buying your makeup from a certified retailer. "If you're getting something that's 50% off, 75% off, it tells you that it's bad," Ishitani told KABC. In other words, don't buy makeup from pop-up stands on New York or Los Angeles street corners. (There used to be one such stand right outside of my Williamsburg apartment, and it always baffled me to see swarms of people around it.) If you wanted a real Chanel bag, you probably wouldn't seek it out from a makeshift table on the street, right?