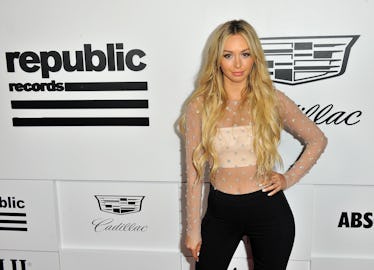 Corinne Olympios Confirmed She Was Engaged After Nick's 'Bachelor' Season, & WTF
Jerod Harris/Getty Images Entertainment/Getty Images
Corinne Olympios was a lightning rod for rumors during and well after her attempt to win the heart of Nick Viall on last winter's season of The Bachelor. So when she was spotted in Jan. 2017 rocking a diamond engagement ring, people freaked out: had she been dating someone the whole time? Were she and Nick actually engaged? Well, Olympios was engaged after The Bachelor, she recently confirmed — to her ex-boyfriend.
On the Nov. 14 episode of The Morning Breath, a Facebook live show hosted by Jackie and Claudia Oshry, Olympios revealed that shortly after she returned from The Bachelor, her former long-time boyfriend proposed. She casually divulged the truth behind long-standing rumors while the Oshry sisters were discussing tattoos — because her then-fiancé didn't like tattoos. Of course.
"I got home, and he showed up at my house with a ring," she said of her ex-boyfriend. What. Hold the phone. You mean we were right all along?
Back in January, everyone freaked out when Claudia Oshry — yeah, the same one from The Morning Breath — posted a picture with Olympios on her Instagram, in which Olympios was very obviously rocking a diamond engagement ring. Even though Olympios hadn't won the final rose on the show, everyone started speculating that she had won Viall's heart on The Bachelor. The ring also fueled rumors that Olympios had been dating someone the whole time she was on The Bachelor, and got engaged to that boyfriend when she returned from her attempt to get famous. At the time, of course, Olympios denied the engagement.
Despite Olympios's initial denial (through her mother, who called the engagement ring a "spoof"), it looks like the ring was legit.
But anyways, the engagement didn't last: Olympios said they broke it off shortly afterwards — hence her Bachelor in Paradise appearance — and she gave the ring back.
"I could never keep something like that," she said.
But she was cool showing it off while she had it and letting people panic.
It's not the only news Olympios has made since she was on The Bachelor. She was also a cast member on Bachelor in Paradise this summer, during which time, she and fellow cast-mate DeMario Jackson had an on-camera interaction in the pool, which led to questions of misconduct. Production shut down while producers tried to handle the sexual misconduct allegations. An investigation found that no misconduct had occurred, but Olympios recalled on The Morning Breath, that didn't stop people from speculating.
She said of the firestorm,
People were saying all these things and making up all these stories and thinking they know exactly what happened. And I'm like, 'You don't know what happened, because I don't even know what happened.'
Olympios and Jackson were not asked to return when filming resumed.
And then, apropos of nothing (except for, I dunno, maybe a wish for attention), almost a year after the infamous ring-displaying IG was posted, Olympios owned up to the engagement on the Facebook news show, fueling Bachelor stans' collective fire.
Eye-rolling about her drama isn't necessarily ill-deserved: she was 24 while on the The Bachelor, and fans broke out the popcorn about the fact that she had a freakin' nanny. Not for her children — of which she has none — but for herself, according to E! News. Like, a nanny to do her chores and make her food. I guess you would call that a maid or a valet if there's no child-rearing involved? (Olympios later clarified that it was a term of endearment for a woman who had been with her family for years.)
But still. The weirdness of a woman who says she has a nanny to do simple day-to-day tasks getting married is pretty hilarious. Would the nanny hold her hand while she walks down the aisle, or is that more of, like, a personal assistant thing?