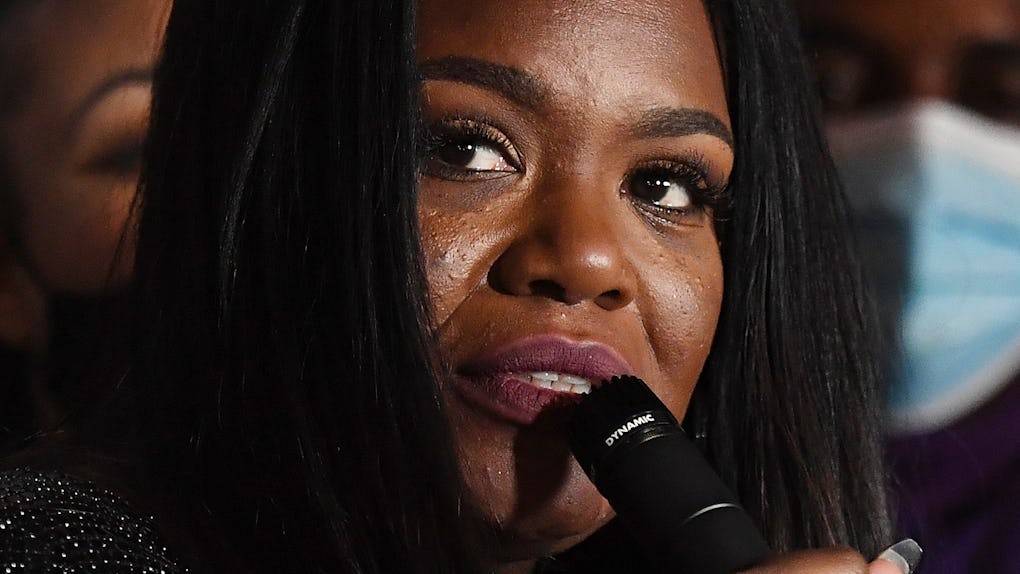 Michael B. Thomas/Getty Images News/Getty Images
Cori Bush's 2020 Missouri Win Makes Her A Historic New Addition To The Squad
Although the results of the 2020 presidential election are still being hashed out in several key battleground states across the country, progressive Americans are celebrating a significant win in Missouri. After a hard-fought campaign with support from multiple angles, the state welcomed its first Black woman into Congress. Cori Bush's 2020 Missouri win makes her a historic new addition to The Squad, and people all over America are celebrating her success.
Earlier this year, Bush defeated 10-term Democratic incumbent Rep. William Lacy Clay Jr. by a 3.6% margin during Missouri's Aug. 8 primaries, effectively ending the Clay family's 52-year hold on the state's first congressional district. On the night of Nov. 3, she emerged victorious in a landslide election, defeating Republican candidate Anthony Rogers by a 62% margin. This win made Bush the first Black woman to represent Missouri in Congress, and the fifth official member of The Squad — a group of progressive congresswomen consisting of Alexandria Ocasio-Cortez, Ilhan Omar, Ayanna Pressley, Rashida Tlaib, and now, Cori Bush.
As a progressive Democrat, Bush ran her political campaigns on a platform of equality and social justice for America's most underserved communities of color. She has consistently worked to support legislation that would ensure reproductive rights and access, a $15 dollar minimum wage, Medicare for all, tuition-free state college and trade school, and (perhaps most notably), criminal justice and police reform.
Bush first became interested in politics as a Black Lives Matter activist during the civil unrest that occurred in Ferguson after the fatal shooting of Michael Brown by police officer Darren Wilson on Aug. 10, 2014, where she served as a triage nurse and grassroots community organizer. Although a grand jury cleared Wilson of all charges after the shooting, many activists, including Bush, did not believe justice was served. On Nov. 3, Missouri's newest congresswoman reassured voters that the fight for Black lives would continue.
In a set of tweets after her race was called, Bush thanked voters and shared her hopes for the future while calling specific attention to marginalized Black and brown communities. "Working class people need representatives who look like them and who have experienced their struggles," she wrote. "To all the counted outs, the forgotten abouts, the marginalized, and the pushed asides. This is our moment. We came together to end a 52-year family dynasty. That's how we build the political revolution," she added.