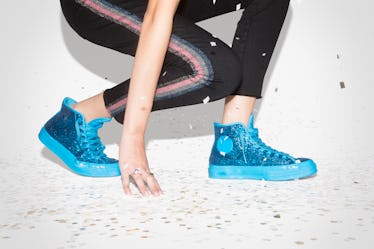 Converse's Holiday Sneaker Collection This Year Is Basically Wearable Glitter Bombs
Courtesy of Converse
Now that Halloween is over, it's officially time to start thinking about your next big dress-up event, which is probably some type of festive seasonal party. If you like to bring the glitz and glitter to such events, then Converse's holiday 2018 collection is definitely about to be on your wishlist. The brand just released two new sneaker packs that are all kinds of merry and bright, thanks to their shimmery finishes, rendering them the ideal shoes of the season. Happy feet, indeed.
The first pack, named "After Party," includes new takes on both the classic Chuck 70 high top and the One Star low top. Rather than the typical canvas and suede uppers that the styles usually feature, the new iterations boast uppers covered completely in blindingly bright glitter. The shoes come in three colors, being white, black, and cobalt blue, and each one is completed with laces and soles that match. Taking both of the styles' toe-to-heel shine into account, it's easy to see where the sneaker pack got its name from. If you're headed to any late-night fêtes this season and need some shoes that are good for dancing in, but don't sacrifice playful style for comfort, these are definitely them.
If you're not a fan of leaving glitter trails behind you everywhere you walk (these shoes would have solved all of Hansel and Gretel's problems) but still love to shine, then consider Converse's second holiday offering, its "Holiday Scene Sequins" pack. This pack features new takes on the Chuck 70 high top and the Chuck 70 low top, which have been reimagined in dazzling multi-colored form. The new high tops come in three sequined color combinations — one that features black, cobalt, and purple sequins; a second that features purple and red sequins; and a third that features silver and gold sequins. If you ever read The Rainbow Fish as a child, the shoes are visually reminiscent of its scaly protagonist.
The low tops, on the other hand, also come in three different colorways. There's one featuring teal and blue sequins; another featuring red, orange, and purple sequins; and a final featuring gold, copper, and silver sequins. No matter which color combination you go for, they'll help you channel the joyful optimism that the holiday season is known for in brilliant sartorial form. The best part? You can wear them in the snow, in the frigid cold, with socks, or without them, meaning those sparkly stilettos that kill your feet can officially be a thing of the past.
All of the styles in the Holiday Scene Sequins pack feature the standard white rubber toecap, white sole, and white shoelaces. Converse's star patches remain on the shoes, but in colorful hues that match each style.
Both packs are currently available to shop at converse.com. The Chuck 70s within the After Party pack retail for $100, while the One Stars retail for $90. Within the Holiday Scene Sequins pack, the high tops retail for $70 and the low tops retails for $65.