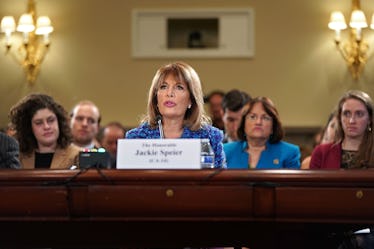 The House Is Having A Hearing On Sexual Harassment & It's Already Proving Itself Necessary
Chip Somodevilla/Getty Images News/Getty Images
On Tuesday, Nov. 14, members of Congress testified during a hearing about preventing sexual harassment on Capitol Hill. During the hearing, politicians ended up detailing instances in which they say harassment and misconduct were not prevented. One of those politicians who served as a witness during Congress' sexual harassment hearing was Rep. Barbara Comstock (R-VA).
According to the Virginia Republican, one member of congress once "decided to expose himself" to a female staffer who had been sent to make a delivery at his home. "She left, she found another job" Comstock said during the hearing. "But that kind of situation — what are we doing here for women right now who are dealing with somebody like that?"
Another House member, Democrat Jackie Speier of California, said she'd heard from both current and former Congressional staffers who shared stories of sexual harassment perpetrated by within the workplace, including by "two [current] members of Congress, Republican and Democrat."
"These harasser propositions such as, 'are you going to be a good girl?' To perpetrators exposing their genitals, to victims having their private parts grabbed on the House floor," Speier said during Tuesday's hearing. "All they ask in return as staff members is to be able to work in a hostile-free work environment. They want the system fixed, and the perpetrators held accountable."
Weeks before the hearing, which was held by the House Administration Committee, Speier herself shared a story of alleged harassment she says she experienced when she was a congressional staffer.
"A chief of staff held my face, kissed me, stuck his tongue in my mouth," Speier said in a video published on her YouTube page. "I know what it's like to keep these things hidden deep inside." Speier later spoke to Elite Daily about her push to help Congress reform policies on sexual harassment in the workplace.
The House Administration Committee's hearing on sexual harassment comes at a time when allegations of sexual harassment have been made by dozens of women against many notable figures who work in entertainment and politics.
The story that Rep. Comstock shared of a member of Congress "exposing himself" to a female staffer mirrors multiple allegations made against some of the figures who have been implicated in the wave of accusations.
One of those figures is comedian Louis C.K., the 50-year-old comedian who was accused of similarly unsolicitedly exposing himself to a woman, among other sexual harassment claims. Shortly after those claims made headline news, the entertainer would confirm the veracity of the stories.
"These stories are true," he wrote in a statement posted on Twitter. "I learned yesterday the extent to which I left these women who admired me feeling badly about themselves and cautious about other men who would never have put them in that position."
On the political side, Republican members of the Senate have been urging Alabama Senate candidate Roy Moore to drop out of the race for December election meant to replace Attorney General Jeff Sessions seat in Congress. One fellow Republican, Sen. Cory Gardner, raised the suggestion of expelling Moore, who has been accused of having inappropriate relationships with minors when he was in his 30s.
"I believe the individuals speaking out against Roy Moore spoke with courage and truth, proving he is unfit to serve in the United States Senate and he should not run for office," Gardner said, per Politico. "If he refuses to withdraw and wins, the Senate should vote to expel him, because he does not meet the ethical and moral requirements of the United States Senate.
The accusation made against Louis C.K., Roy Moore, and others, all come at a time when women who work in and around Congress have begun to share stories of alleged harassment that occurs in their workplace.
Those members include, of course, Rep. Speier, who told Elite Daily,
There's been a sobering recognition that it's time for the House of Representatives to stop sticking their heads in the sand and stop catering to the perpetrator.